Earrings make the perfect gift because they are always the right fit in any shape, size, and color imaginable. 
From beaded earrings to diamond earrings and everything in between, the right pair will give you that Godly, royal, and peculiar look that is befitting a child of the King (the Most High God).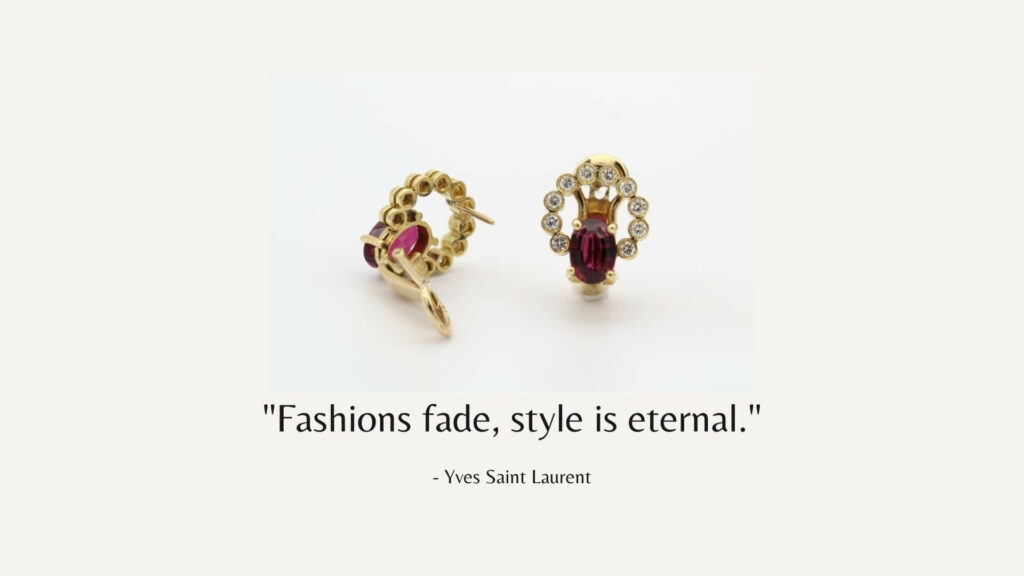 Things To Consider When Buying Earrings 
The right earring can transform an ordinary outfit into the envy of every woman in the room; however, wearing the wrong earring can be painful for both your ear, fashion, and even your pocket.
But the good news is that distinguishing between the right and wrong earrings is as easy as paying attention to the following: 
1. Price
When purchasing earrings, the first thing to consider is the price. 
Earring comes in a variety of styles, sizes, and shapes. 
If the earrings are high quality, you will notice a significant price difference.
For example, diamond earrings are more expensive than gold or other types of earrings. 
Your first decision is to determine what type of earrings you want and if you have the budget to buy them. 
2. Design of the Earring
Another thing to think about when purchasing earrings is the design. 
This factor is entirely dependent on the occasion for which the earrings are being worn.
Choose a design that is contemporary, stylish, and complements your personality and attire. 
As a result, you must match the design of the earring to the outfit you are wearing.
3. Pierced Earrings or Non-pierced Earrings
When it comes to earrings, there are two types: pierced and non-pierced. 
Many ladies worldwide do not have their ears pierced at all. But there's no need to be concerned!
Non-pierced earrings are available in many styles, and you can choose the best ones based on your preferences. 
That being so, before purchasing earrings, you must first determine whether you are purchasing earrings for pierced or non-pierced ears.
4. Types of Earrings
There are four types of earrings available; Hoops, Studs, Dangle, and Clip-on earrings.
Stud earrings are earrings with a piece of metal that goes through your ear piercing.
These earrings are secured behind the earlobe with a backing or screw.
Studs' earnings go with almost any outfit, thanks to their simple design.
Hoop earrings give any outfit a pretty, feminine touch. 
From hoops that just fit around your earlobe to hoops that almost touch your shoulders, they come in a variety of sizes and thicknesses. 
Smaller hoops are sophisticated and classic, while larger hoops are fashion jewelry.
Dangle earrings are earrings that dangle below the earlobe and are attached to the earlobe with a hook. 
They move in sync with you, giving them an elegant appearance (especially if they're sparkly). 
There are several types of dangle earrings. A gemstone, pearl, or other object is suspended from a small bar in drop earrings. 
Clip-on earrings: You can still have fun with earrings that clip to your earlobes if you don't have pierced ears? Sure you can, and that is what clip-on-earnings are all about.
5. Earrings' Weight and Material
Weight: The weight of the earrings is also important because some women dislike wearing earrings that are too heavy. 
Earrings that are lightweight are much more comfortable to wear throughout the day.
Material: You'll be spoilt for choice when it comes to materials. 
Diamond earrings, gold or sterling silver earrings, pearl earrings, and gemstone earrings are all classic and elegant options (including ruby, sapphire, and emerald earrings). 
Cubic zirconia earrings aren't as long-lasting as diamonds, but they're less expensive and will still brighten up your look. 
Other synthetic gemstones, which are less expensive, are used in many fashion earrings.
Also, determine whether you are allergic to certain metals in your ears. 
It's because some people claim that only gold earrings are non-allergic to them, while other types of earrings cause ear wounds.
6. Earrings that Match Your Face
Earrings that complement your face are also important considerations. 
Some ladies have very slim faces and certain earrings won't compliment them well. 
On the other hand, some women have round faces, and others have straight faces.
For this reason, this is an important factor to consider when selecting the ideal earrings.
7. Earring's Color
The color of your earrings is also important because it complements your facial expression and eyes. 
Experiment with a variety of different colored earrings and match them to your outfit.
When buying earrings, however, keep in mind that you don't buy outfits to match your earrings; rather, you buy earrings to match your outfits.
8. Choose Earrings According to Your Outfit
As previously stated, you must purchase earrings that complement your outfit while also highlighting your overall personality.
If you're wearing a white gown, for example, pearl earrings are a good choice because they complement white gowns and other clothing.
Fine Christian Jewelry Earrings for Woman
This stunning collection of jewelry earrings is a symbol of beauty, love, freedom, hope, and elegance.
PAVOI 14K Yellow Gold Plated Girls Sterling Silver Earrings
14K Yellow Gold 1/20 Cttw Diamond Studded Heart Cross Pendant Necklace with Rolo Chain
Final Thoughts
Earring, unlike necklaces and other accessories, "must-have" for most women because they symbolize womanhood, freedom of expression, and encourage beauty.
Furthermore, the Bible encourages the expression of beauty and something a woman should pay attention to. 
The idea here is not to become caught up with the materialist lifestyle and chase after insignificant things. 
But to live and adorn yourself in a way that is consistent with scriptures.
I hope this Chartians buying guide will help you get the best Christian earnings so that you can look, feel, and step out in royalty, peculiarity, and as a child of the King.