I felt desperate when my parenting 'wisdom' didn't work out the way I had hoped, and I had to admit my complete lack of patience and inner peace. There were times when I wept: "I'm sorry, Lord, but I'm not capable of raising this child. I'm not qualified for this position!"
But, just as God didn't make a blunder when creating my daughter, He didn't make a blunder when creating me as her father. 
And, just as I had to decide to trust God with her present and future, I had to make the same decision for myself. 
I had to believe that because He had blessed me with this special, wonderful girl, He would also bless me with the strength and wisdom to guide and assist her now and in the future.
And as I grew in my ability to trust God more each day, I gained a better understanding of how He raises me as his child. These are some of the parenting lessons that have shifted my perspective:
1. God is a loving and giving Father
"For God so loved the world, that He gave his only begotten Son…" John 3:16.
Because He loved the world so much, God sacrificed his only begotten Son, the One who was closest to his heart. 
And his Son, Jesus Christ, volunteered to participate in this plan of salvation, choosing to lay down his life because he shared his Father's love for the world.
What am I willing to give up for my children? 
Am I willing to give up something dear to my heart for the sake of my children? And, like Jesus, do I have the mindset to lay down my life for those I care about? 
This has made a huge difference in how I interact with my kids throughout the day!
Of course, I adore my children; after all, don't we all adore our loved ones? But how do I know they're feeling it? Do I show it by sacrificing my time for them, letting go of the things I like or planned to do to give them my undivided attention whenever possible, not just because I care for them, dress them, and feed them? I can do this more frequently!
2. God wants a relationship with His children
"My son, give me thine heart, and let thine eyes observe my ways." Proverbs 23:26.
The Lord searches our hearts and desires to communicate with us not only through His Word and the Holy Spirit but also through prayer throughout the day. 
He draws us close to Him so that we can walk alongside Him and listen to Him, and He hears all of our prayers, even the tiniest sigh.
He invites us to spend time with Him, in His Word, so that we can truly get to know Him, just as He knows us. 
And when we're close to Him, He can show us the path He wants us to take – the only path that leads to true peace and happiness.
Do I really look for my children's hearts? Do I converse with them, or do I converse with them as well? Do I do things for them only, or do I do things with them as well? I can learn about their hearts by listening to them while we do things together. I want to create an environment where they feel comfortable talking to me about what's going on in their lives, their inner thoughts, and events at school… As a result, our bond grows deeper and stronger, and they are more willing to follow my advice.
3. God desires obedience from the heart
Apostle Paul wrote to the church in Rome: "But God be thanked, that ye were the servants of sin, but ye have obeyed from the heart that form of doctrine which was delivered you." Romans 6:17.
What does true obedience entail? 
Do we obey because we have no choice; do we fear the consequences if we don't? Do we obey from the heart, or do we obey from the head?
God is all-powerful. 
He could easily force us to obey, even if we didn't want to, just as a master could force a slave to obey him. 
But that's not what God wants from the people with whom He wants to have a relationship! He wants us to obey from the heart, not because we're afraid of the consequences, but because we love Him.
When it comes to my children, how do I handle the issue of obedience? Do I use threats of punishment to compel them to obey me? How easy it is to overlook heart issues when I focus on rewarding good behavior and punishing bad behavior.
And if they're having trouble obeying me, is it possible that I haven't shown them enough love lately? Perhaps they require more of my attention? Because it's so much easier to obey from the heart when the person who asks you to do something loves and values you.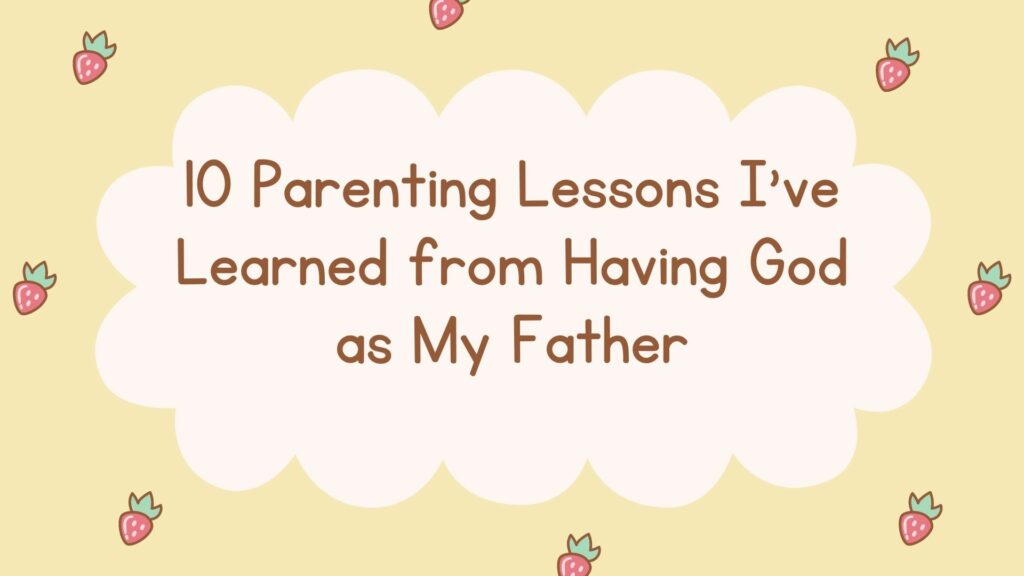 4. God is trustworthy and faithful
"But let your statement be, 'Yes, yes' or 'No, no'; anything beyond these is of evil." Matthew 5:37.
God does exactly what He says. He always follows through on his promises. He keeps His promises, and He is unwavering and consistent. That is why I can put my complete trust in Him with my life!
That is why, even though I don't always understand Him, I want to obey Him. I know he always has my best interests at heart. I can put my faith in Him!
As a parent, this teaches me a lot. I'm well aware that I'm not infallible in the same way that God is. I tend to say things in a hurry or without giving them much thought, and then I have to go back and reconsider what I said. When my children refused to cooperate, I would make empty threats such as, "If you don't get in the car right now, I will leave without you!"
I want to work on being more deliberate with my words. 
To be trustworthy, I must maintain a high level of consistency and keep my promises. Then, hopefully, my children will listen to me when I warn them about something that could harm them, simply because they know they can trust me and that I have their best interests at heart.
5. God sets boundaries to protect us
"Thou shalt keep therefore his statutes, and his commandments, which I command thee this day, that it may go well with thee…" Deuteronomy 4:40.
God gave the Israelites the law and promised them protection and blessing if they followed it. God now writes his laws in the hearts of believers during the time of the new covenant.
These commandments are not given to make life difficult for us; rather, they are boundaries that protect us from the wrath of God if we live in sin. They're supposed to keep us safe. We set boundaries for our children as parents to protect them from physical and spiritual harm.
Is safety, on the other hand, always my top priority? 
Or do I just say 'no' now and then, not because something might harm them, but because it would mean more work for me? Because it is inconvenient for me if my child desires to do something? 
Am I sure I'm giving them enough room to breathe, grow, and explore – or am I restricting them unnecessarily because I'm worried, tired, or perhaps a little legalistic by nature? 
Many power struggles can be avoided if I say "yes" more frequently – even if it means more mess to clean up afterward.
6. God disciplines us because He delights in us
"My son, do not reject the discipline of the Lord, or loathe His reproof, For whom the Lord loves He reproves, even as a father corrects the son in whom he delights." Proverbs 3:11-12 (NASB).
God corrects and disciplines us. It hurts when He points out the things in our lives that need to be changed. It implies that we must let go of things that are dear to us, things that may jeopardize our relationship with God! It's difficult to acknowledge this and submit to His mighty hand. It hurts to be judged by God because of our sin.
But I know that as long as I voluntarily allow Him to judge my sinful inclinations and agree with His judgment, He is only judging the sin in me, not me as his child. 
God loves me and wants to free me from everything that is impeding my spiritual growth! This gives me comfort because I know He started good work in me and will see it through.
I want to pray for wisdom when I have to correct my children so that they understand I am not condemning them as a person! I love them and all I want to do is help them understand that they have a human nature with sinful tendencies, which is why they so desperately need a Savior.
7. God is patient and full of grace
"The Lord is compassionate and gracious, slow to anger and abounding in lovingkindness." Psalm 103:8
When my child does not obey right away, I become frustrated. But when I consider how patient God has been with me, my heart softens. Of course, it's best if I obey right away for my own sake. 
When we refuse to obey, we are frequently forced to bear the natural consequences of our poor decisions. God, on the other hand, did not strike me with lightning because I needed time to surrender to His will. However, he continued to speak to my heart!
When you read about Israel's history, you can see God's incredible patience. Moses hesitated to obey God's command to go to Pharaoh after being directly addressed by God from the burning bush – he even talked back! 
Moses didn't think he had what it took to be a prophet because he couldn't speak in public. He was not punished by God for speaking up. Yes, He chastised him verbally, but He also assisted in the form of his brother Aaron.
And later, as Israel wandered through the desert, God demonstrated his patience time and time again. 
They grumbled, complained, and doubted Him, but He still provided manna, led them to water, defeated their foes, and led them to the promised land. 
Yes, most of the Israelites were eventually barred from entering the promised land, but this came after He had given them numerous opportunities to put their faith in Him.
I'm not writing to argue that it's acceptable to disobey God right away. That is not acceptable! 
I want to be obedient to His will right away! 
But, when it comes to my children, I should show them the same grace that I have been shown so many times. 
Because it is in their best interests, I will strongly encourage them to obey quickly and gently train them in obedience. 
However, I should not use punishment when all they require is some assistance to complete their task, for example.
8. God goes his way with every child
"And we know that all things work together for good to them that love God, to them who are the called according to his purpose." Romans 8:28
Every one of us is going through something different. 
But all things will work together for our good and for all those who love the Lord.
God's treatment of us is not one-size-fits-all. 
And there is no such thing as a one-size-fits-all approach to parenting. 
Because each child has unique needs, possibilities, talents, and character traits, it would be unfair to treat all children the same way, to follow some sort of pattern or formula, or to stick to a plan of '8 steps to discipline a child.' 
9. God is a righteous judge
"And the heavens declare His righteousness, For God Himself is judge." Psalm 50:6 (NASB)
God is the only One who can judge us according to our consciences, whether our thoughts accuse or defend us. 
He understands all sides of every situation and can thus render a truly just judgment.
As a parent, I want to make every effort to be righteous when it comes to dealing with problems that arise between or among my children. 
I shouldn't just send one of the kids to his room to end a fight between the kids without investigating what was going on.
At the same time, unlike God, I have to admit that I don't know everything.  I'm not always in the same room as them, and I don't always have all of the facts. 
I can probably sense what's going on inside a child's mind, but I don't have God's ability to see the heart. 
That is why I must exercise extreme caution!
With my limited experience, I'm prone to misjudging situations and blaming a child for something he didn't do. 
If that happens, I'll have to humble myself and ask for forgiveness from my child.
10. God has plans to give us a future and a hope
"For I know the plans that I have for you, declares the Lord, plans for welfare and not for calamity to give you a future and a hope." Jeremiah 29:11 (NASB)
These were God's words to the exiled Israelites in Babylon. That was a dark period in Israel's history! 
God, on the other hand, spoke to them about a bright future. He instilled hope in them!
This verse reveals a lot about God's love for his people, the ones He cares about. His heart is full of plans to provide a future and hope for his children. Because He is brimming with hope for the future!
I want to keep this hope alive in my heart at all times. 
Even if my children misbehave or are going through a difficult time – even if they stray from the path of life. 
"If a mother no longer has hope for her child, then who on earth does?" someone once said to me.
I want to train myself to think hopeful thoughts about my children and their lives, no matter how bleak the situation appears or how many questions arise about their future (for example, about her future). 
Also, and perhaps more importantly, I want to speak these words to my children as prophetic words they can hold on to: "It'll work out perfectly for you! 
You are loved by God. 
He's started a project in you. Stay close to Him, and He will bring peace, joy, and happiness into your life!"
Yes, I believe God has a good plan for my children, one that is full of blessings and leads to an eternity of joy! 
And I'm grateful He brought them into my life to make me a witness to his plan for them while He continues to carry out his plan for me. And because I love Him and trust Him as my Father, I will completely surrender to Him.