Here are some remarkable Bible verses about protection that will strengthen your soul, and equip you for the journey of life. All of us will go down the rough road sooner or later, but remember that the Lord is with you. These Bible verses about protection will strengthen your commitment and resolve to follow the Lord with all your heart!
27 Remarkable Bible Verses About Protection
2 Samuel 22:3–4 "The God of my rock; in him will I trust: he is my shield, and the horn of my salvation, my high tower, and my refuge, my savior; thou savest me from violence. 4 I will call on the LORD, who is worthy to be praised: so shall I be saved from mine enemies."
Joshua 1:9 "Have not I commanded thee? Be strong and of good courage; be not afraid, neither be thou dismayed: for the LORD thy God is with thee whithersoever thou goest."
Psalm 20:1 "The LORD hear thee in the day of trouble; the name of the God of Jacob defend thee;"
Psalm 23 "The LORD is my shepherd; I shall not want. 2 He maketh me to lie down in green pastures: he leadeth me beside the still waters. 3 He restoreth my soul: he leadeth me in the paths of righteousness for his name's sake. 4 Yea, though I walk through the valley of the shadow of death, I will fear no evil: for thou art with me; thy rod and thy staff they comfort me. 5 Thou preparest a table before me in the presence of mine enemies: thou anointest my head with oil; my cup runneth over. 6 Surely goodness and mercy shall follow me all the days of my life: and I will dwell in the house of the LORD for ever."
Psalm 37:38–40 "But the transgressors shall be destroyed together: the end of the wicked shall be cut off. 39 But the salvation of the righteous is of the LORD: he is their strength in the time of trouble. 40 And the LORD shall help them, and deliver them: he shall deliver them from the wicked, and save them, because they trust in him."
Psalm 46:1 "God is our refuge and strength, a very present help in trouble."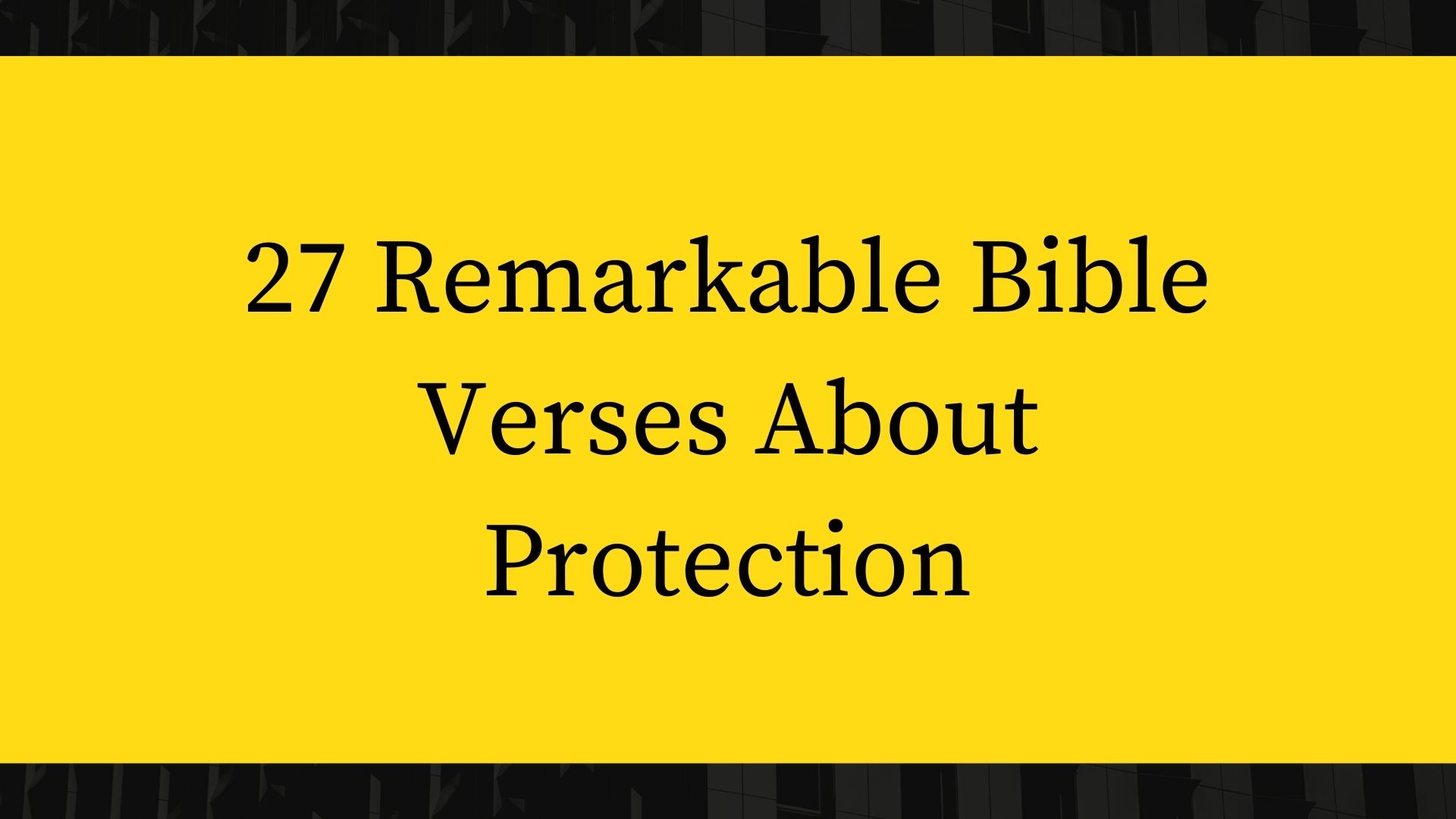 Psalm 59:1 "Deliver me from mine enemies, O my God: defend me from them that rise up against me."
Psalm 82:3 "Defend the poor and fatherless: do justice to the afflicted and needy."
Psalm 91:1–16 "He that dwelleth in the secret place of the most High shall abide under the shadow of the Almighty. 2 I will say of the LORD, He is my refuge and my fortress: my God; in him will I trust. 3 Surely he shall deliver thee from the snare of the fowler, and from the noisome pestilence. 4 He shall cover thee with his feathers, and under his wings shalt thou trust: his truth shall be thy shield and buckler.
5 Thou shalt not be afraid for the terror by night; nor for the arrow that flieth by day; 6 Nor for the pestilence that walketh in darkness; nor for the destruction that wasteth at noonday. 7 A thousand shall fall at thy side, and ten thousand at thy right hand; but it shall not come nigh thee. 8 Only with thine eyes shalt thou behold and see the reward of the wicked.
9 Because thou hast made the LORD, which is my refuge, even the most High, thy habitation; 10 There shall no evil befall thee, neither shall any plague come nigh thy dwelling. 11 For he shall give his angels charge over thee, to keep thee in all thy ways.
12 They shall bear thee up in their hands, lest thou dash thy foot against a stone. 13 Thou shalt tread upon the lion and adder: the young lion and the dragon shalt thou trample under feet. 14 Because he hath set his love upon me, therefore will I deliver him: I will set him on high, because he hath known my name.
15 He shall call upon me, and I will answer him: I will be with him in trouble; I will deliver him, and honour him. 16 With long life will I satisfy him, and shew him my salvation."
Psalm 109 "Hold not thy peace, O God of my praise; 2 For the mouth of the wicked and the mouth of the deceitful are opened against me: they have spoken against me with a lying tongue. 3 They compassed me about also with words of hatred; and fought against me without a cause.
4 For my love they are my adversaries: but I give myself unto prayer. 5 And they have rewarded me evil for good, and hatred for my love. 6 Set thou a wicked man over him: and let Satan stand at his right hand.
7 When he shall be judged, let him be condemned: and let his prayer become sin. 8 Let his days be few; and let another take his office. 9 Let his children be fatherless, and his wife a widow. 10 Let his children be continually vagabonds, and beg: let them seek their bread also out of their desolate places. 11 Let the extortioner catch all that he hath; and let the strangers spoil his labor.
12 Let there be none to extend mercy unto him: neither let there be any to favour his fatherless children. 13 Let his posterity be cut off; and in the generation following let their name be blotted out. 14 Let the iniquity of his fathers be remembered with the LORD; and let not the sin of his mother be blotted out.
15 Let them be before the LORD continually, that he may cut off the memory of them from the earth. 16 Because that he remembered not to shew mercy, but persecuted the poor and needy man, that he might even slay the broken in heart. 17 As he loved cursing, so let it come unto him: as he delighted not in blessing, so let it be far from him. 18 As he clothed himself with cursing like as with his garment, so let it come into his bowels like water, and like oil into his bones.
19 Let it be unto him as the garment which covereth him, and for a girdle wherewith he is girded continually. 20 Let this be the reward of mine adversaries from the LORD, and of them that speak evil against my soul. 21 But do thou for me, O GOD the Lord, for thy name's sake: because thy mercy is good, deliver thou me. 22 For I am poor and needy, and my heart is wounded within me. 23 I am gone like the shadow when it declineth: I am tossed up and down as the locust.
24 My knees are weak through fasting; and my flesh faileth of fatness. 25 I became also a reproach unto them: when they looked upon me they shaked their heads. 26 Help me, O LORD my God: O save me according to thy mercy:
27 That they may know that this is thy hand; that thou, LORD, hast done it. 28 Let them curse, but bless thou: when they arise, let them be ashamed; but let thy servant rejoice. 29 Let mine adversaries be clothed with shame, and let them cover themselves with their own confusion, as with a mantle.
30 I will greatly praise the LORD with my mouth; yea, I will praise him among the multitude. 31 For he shall stand at the right hand of the poor, to save him from those that condemn his soul."
Psalm 121:1–8 "I will lift up mine eyes unto the hills, from whence cometh my help. 2 My help cometh from the LORD, which made heaven and earth. 3 He will not suffer thy foot to be moved: he that keepeth thee will not slumber.
4 Behold, he that keepeth Israel shall neither slumber nor sleep. 5 The LORD is thy keeper: the LORD is thy shade upon thy right hand. 6 The sun shall not smite thee by day, nor the moon by night. 7 The LORD shall preserve thee from all evil: he shall preserve thy soul.
8 The LORD shall preserve thy going out and thy coming in from this time forth, and even forevermore."
Psalm 138:7 "Though I walk in the midst of trouble, thou wilt revives me: thou shalt stretch forth thine hand against the wrath of mine enemies, and thy right hand shall save me."
Most of the best Bible verses about protection come from the Psalms, we did not list them all but tried to handpick the best and most relevant Psalms for this article.
Bible Verses About Protection from the Proverbs
Proverbs 11:14 "Where no counsel is, the people fall: but in the multitude of counselors there is safety."
Proverbs 19:23 "The fear of the LORD tendeth to life: and he that hath it shall abide satisfied; he shall not be visited with evil."
Proverbs 21:31 "The horse is prepared against the day of battle: but safety is of the LORD."
Proverbs 24:6 "For by wise counsel thou shalt make thy war: and in a multitude of counselors there is safety."
Bible Verses About Protection from the Prophets
Isaiah 31:5 "As birds flying, so will the LORD of hosts defend Jerusalem; defending also he will deliver it; and passing over he will preserve it."
Isaiah 37:35 "For I will defend this city to save it for mine own sake, and for my servant David's sake."
Isaiah 38:6 "And I will deliver thee and this city out of the hand of the king of Assyria: and I will defend this city."
Isaiah 41:10 "Fear thou not; for I am with thee: be not dismayed; for I am thy God: I will strengthen thee; yea, I will help thee; yea, I will uphold thee with the right hand of my righteousness."
Isaiah 54:17 "No weapon that is formed against thee shall prosper; and every tongue that shall rise against thee in judgment thou shalt condemn. This is the heritage of the servants of the LORD, and their righteousness is of me, saith the LORD."
Zechariah 9:15 "The LORD of hosts shall defend them; and they shall devour, and subdue with sling stones; and they shall drink, and make a noise as through wine; and they shall be filled like bowls, and as the corners of the altar."
Zechariah 12:8 "In that day shall the LORD defend the inhabitants of Jerusalem; and he that is feeble among them at that day shall be as David; and the house of David shall be as God, as the angel of the LORD before them."
As you consider these Bible verses about protection, we hope that you will use them to encourage some others that may be going through a dangerous situation or difficult circumstance. Feel free to cope any of these scriptures and paste them into an email or a text, and sent it to someone that needs it!
Bible Verses About Protection from the New Testament
Romans 12:19 "Dearly beloved, avenge not yourselves, but rather give place unto wrath: for it is written, Vengeance is mine; I will repay, saith the Lord."
2 Thessalonians 3:2–3 "And that we may be delivered from unreasonable and wicked men: for all men have not faith. 3 But the Lord is faithful, who shall stablish you, and keep you from evil."
2 Timothy 4:17–18 "Notwithstanding the Lord stood with me, and strengthened me; that by me the preaching might be fully known, and that all the Gentiles might hear: and I was delivered out of the mouth of the lion. 18 And the Lord shall deliver me from every evil work, and will preserve me unto his heavenly kingdom: to whom be glory forever and ever. Amen."
James 4:6–7 "But he giveth more grace. Wherefore he saith, God resisteth the proud, but giveth grace unto the humble. 7 Submit yourselves therefore to God. Resist the devil, and he will flee from you."
We hope that these Bible verses about protection have encouraged you and strengthened your commitment to follow the Lord's will in your life.