In this post, we will look at five scriptures about money that I think every Christian should know and that I believe will have a deep impact on your life.
This post aims to educate us on what God's word says about money so that we can get more in alignment with God's word.
We're all work in progress, we're all growing in our faith, so don't be too hard on yourself but trust God.
Moreover, let this post be an encouragement that hopefully can guide and direct you, but doesn't feel guilty or condemned
And if you are struggling in a particular area, I recommend that you pray to God and ask him for help.
That's what he's there for.
And with that, I think it's time to dive in and get started.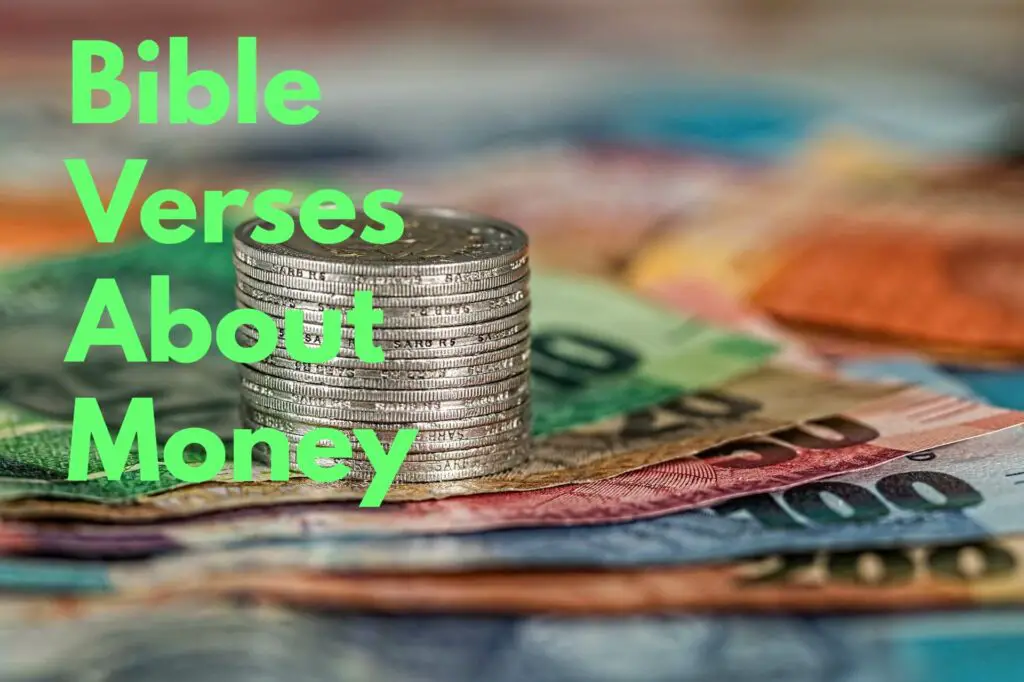 Bible Verses About Money
All right, so the first scripture we are going to look at about money is 1 Timothy 6:10, and it says, 
1 Timothy 6:10
"For the love of money is a root of all kinds of evils. It is through this craving that some have wandered away from the faith and pierced themselves with many pangs."
A lot of the time you will hear people say money is the root of all evil.
But this is untrue based on scripture, money is not the root of all evil, but it is the love of money that is the root of all evil, and that is a big distinction because money in and of itself is just a tool. It is not evil. It's not righteous, but it can be used for both purposes.
Just like a hammer can be used to build or it can be used to destroy. It's no different with money, they both fall in the same category.
So, another interesting thing about this is you're not off the hook if you don't have money.
For example, some people may think that if they don't have a lot of money that means they don't love money.
But the truth is that the love of money has nothing to do with how much money is in your bank account.
So just because you have millions of dollars in your bank account doesn't mean that you love money.
And on the other hand, even if you only have $15 in your account, that doesn't prove that you don't love money either.
So, it's independent of the amount of money we have and it's more our attitude and our heart towards money.
That said, if you're trying to find out if this is an area where you can grow, then here are a few questions that you can ask yourself:
Does my pursuit of money interfere with obeying God?
Do I always look for something that will benefit me financially regardless of how it affects others when it comes to helping others?
Am I more concerned with what the cost will be instead of allowing myself to be moved by compassion?
As you can see, in this verse, Paul makes a bold statement about our attitude toward money.
Notice the vivid language that he uses here through this scripture:
Some have pierced themselves with many griefs and have wandered from the faith.
And essentially what he's saying here is that this craving for more and more will ultimately lead us to destruction.
Like I said in the beginning, this is one of those areas in that we all probably have room to grow.
That being the case, let's let God guide us and challenge us, and lead us into that change that he wants to make in our hearts.
All right, #2 is: 
Malachi 3:10
"Bring ye all the tithes into the storehouse, that there may be meat in mine house, and prove me now herewith, saith the Lord of hosts, if I will not open you the windows of heaven, and pour you out a blessing, that there shall not be room enough to receive it"
This verse that speaks about giving is a heavily debated topic, but the bottom line is that we cannot go wrong with giving.
So, my encouragement to you would be to continue growing in your giving.
Tithing is an opportunity that we must honor God, to kind of step out in faith with God and watch him do something special for us.
I believe that we've been redeemed from the curse of the law (Galatian 3:13, that Jesus bore that curse for us and therefore we are not cursed if we don't tithe, but I do think there's a blessing available to those of us who continue to step out in generosity and continuously tithe. 
You can also read Luke 6:38 where it says, "Give, and it shall be given unto you; good measure, pressed down, and shaken together, and running over, shall men give into your bosom. For with the same measure that ye mete withal it shall be measured to you again."
Proverbs 11:24-26 says, "There is that scattereth, and increaseth yet more, and there is that withholdeth more than is meet, but it tendeth only to want. The liberal soul shall be made fat; and he that watereth shall be watered also himself. He that withholdeth grain, the people shall curse him; But blessing shall be upon the head of him that selleth it."
So, #3 on the list is: 
Acts 20:35
"In all things, I have shown you that by working hard in this way we must help the weak and remember the words of the Lord Jesus, how he himself said, 'It is more blessed to give than to receive."
So, this verse ties nicely into the previous one and is essentially saying that our giving changes us.
Our giving can help to change the world by providing resources for kingdom growth and advancement so evangelists, preachers, ministries, and organizations who are helping and serving the world can have the finances they need to fund what they are doing.
So, Paul, who is actively working as a missionary said this to the Church of Philippi. "In all my prayers for all of you, I always pray with joy because of your partnership in the Gospel from the first day until now."
Our giving also helps to bring light and joy into the world by providing food and opportunities for those in need.
The truth is when we invest in ourselves, there's often very little emotional return for that investment.
However, when we invest in the lives of others, the return on investment is a tremendous amount of joy that we get from giving and benefiting someone else's life.
Again, our giving helps us fulfill the two greatest commandments because giving is motivated by the love for God, and this love for God fulfills the greatest commandment; "to love the Lord your God with all your heart, all your soul, and all your mind. And then to love your neighbor as yourself."
So, in wrapping up this point, I think it's important to remember that Jesus himself said it is more of a blessing to give than to receive.
And if we think seriously about what that means, we should be excited when we're giving.
It should be fun, and it should be something that we're chasing after and wanting to do more of because there's a blessing attached to it.
All right, it's time for #4:
Proverbs 22:7 
"The rich rules over the poor, and the borrower is the slave of the lender."
We were slaves to sin, and Jesus came to set us free.
If Christ came to set us free, I don't think that he came to set us free in only one area, but he came to set us free in every area of our lives so that God would be glorified in us.
Whether you have acquired debts through your own mistakes or circumstances beyond your control.
I believe that God wants to see his children living debt-free lives and the good news is that God wants to help us become debt-free.
God can help you get out of debt if you will agree to step out in faith with him. Others have stepped in faith with God to pay off their debts and now they are debt-free.
Folks who would have experienced this would say it just happened. It got paid off a lot faster than they thought.
They created a plan to pay it off and God swooped in and add some wind beneath their wings to move things along faster than they expected. And I think this is something that God wants for all of us.
Next is #5:
 Philippians 4:19
"But my God shall supply all your need according to his riches in glory by Christ Jesus."
If you've been around on this earth for a while, you probably know that putting your trust in anything other than God is somewhat silly.
If you're trusting the economy, if you're trusting in your job, if you're trusting in your bank accounts, all of those are places that we should not be putting our trust because these are shaky ground that is going to let us down at some point.
On the other hand, God is always faithful, and he will always be there, and he will always provide for us.
Final Thoughts
I hope these bible verses about money have been a blessing to you. And if so, I would appreciate it if you could share this post on your social media pages and profiles.