Almost every woman has days when negative thoughts such as "I'm not good enough," "I'm not pretty enough," or "I'm not clever enough" invade her mind.
In these situations, it's easy to lose hope and encouragement, and it may seem easier to "just give up."
But the Bible reminds you that the negative thoughts and words you tell yourself are untrue, and it instead; provides you with hope and the affirmations you need to succeed in anything you do.
 In this post, we will look at a few  Bible verses of encouragement for women that you can use as a source of strength.
When you grasp everything that the Lord has in store for you as a woman of God, you will be motivated and challenged!
That said, many women have gone through terrible circumstances and have somehow always found a ray of hope in God's Word.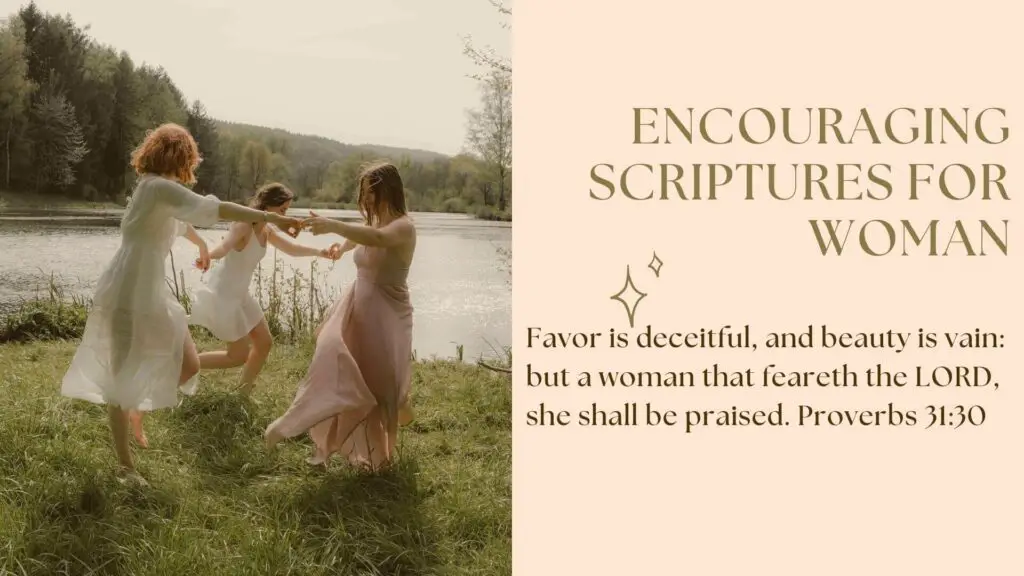 Reading these inspiring bible verses will not only give you strength, but they will also quiet your mind and allow you to better deal with difficulties.
Use these scriptures to provide you with the strength and motivation that you may need right now.
Psalm 55:22
Cast thy burden upon the LORD, and he shall sustain thee: he shall never suffer the righteous to be moved.
Proverbs 31:30
Favor is deceitful, and beauty is vain: but a woman that feareth the LORD, she shall be praised.
Joshua 1:9
Have not I commanded thee? Be strong and of good courage; be not afraid, neither be thou dismayed: for the LORD thy God is with thee whithersoever thou goest.
Psalm 46:5
God is in the midst of her; she shall not be moved: God shall help her, and that right early.
Proverbs 31:25
She is clothed with strength and dignity; she can laugh at the days to come.
Romans 5:8
But God demonstrates His own love for us in this: while we were still sinners, Christ died for us.
Psalm 91:1
He that dwelleth in the secret place of the most High shall abide under the shadow of the Almighty.
Philippians 4:6-7
Be anxious for nothing, but in everything by prayer and supplication with thanksgiving let your requests be made known to God. 7And the peace of God, which surpasses all comprehension, will guard your hearts and your minds in Christ Jesus.
2 Timothy 1:7
For God hath not given us the spirit of fear, but of power, and of love, and of a sound mind.
Jerimiah 29:11
For I know the thoughts that I think toward you, saith the LORD, thoughts of peace, and not of evil, to give you an expected end.
Song of Solomon 4:7
Thou art all fair, my love; there is no spot in thee.
Ephesians 2:19-22
So then you are no longer strangers and aliens, but you are fellow citizens with the saints and are of God's household, having been built on the foundation of the apostles and prophets, Christ Jesus Himself being the cornerstone, in whom the whole building, being fitted together, is growing into a holy temple in the Lord, in whom you also are being built together into a dwelling of God in the Spirit.
Proverbs 31:16-17
"She considers a field and buys it; with the fruit of her hands, she plants a vineyard. She dresses herself with strength and makes her arms strong."
1 Corinthians 15:10
"But by the grace of God I am what I am, and his grace toward me was not in vain. On the contrary, I worked harder than any of them, though it was not I, but the grace of God that is with me."
Proverbs 31:20-21
"She opens her hand to the poor and reaches out her hands to the needy. She is not afraid of snow for her household, for all her household are clothed in scarlet."
Psalm 139:14
"I praise you, for I am fearfully and wonderfully made. Wonderful are your works; my soul knows it very well."
1 Corinthians 11-12
"Nevertheless, in the Lord woman is not independent of man nor man of woman; for as woman was made from man, so man is now born of woman. And all things are from God."
1 Peter 3:3-4
"Do not let your adorning be external — the braiding of hair and the putting on of gold jewelry, or the clothing you wear — but let your adorning be the hidden person of the heart with the imperishable beauty of a gentle and quiet spirit, which in God's sight is very precious."
Luke 1:45
"And blessed is she who believed that there would be a fulfillment of what was spoken to her from the Lord."
Proverbs 11:16
"A gracious woman gets honor, and violent men get riches."
Proverbs 31:25
"Strength and dignity are her clothing, and she laughs at the time to come."
Proverbs 3:15
"She is more precious than jewels, and nothing you desire can compare with her."
Final Thoughts
The world would be a different place if we didn't have women in our lives. Jesus was brought into the world by a powerful woman, and God placed a woman on Earth to accompany man from the beginning of time.
There are numerous Bible verses about women who demonstrate their resilience in the face of adversity, life's most terrifying moments, and even pleasant ones.
Women were created in God's image for a specific cause, and the Bible reminds us of this every day with bible verses and stories about women like Mary, Rachel, Rebecca, Ruth, and others.
These spiritual mothers of the faith served as spiritual guides during their lives and continue to inspire women today.
When you need a reminder of how much a woman may achieve, turn to these biblical scriptures for encouragement.