Today, more than ever, men need to hear from God. 
It could be your brother, uncle, cousin, son, grandfather, or husband; men need all the encouragement they can get from the scripture.
As men, the world may tell us to suppress our emotions and act tough, but the scripture is full of men who sought God passionately with tears.
Do not allow anyone to deceive or discourage you; God needs you; He has a specific calling for you; He wants you to be strong, a fearless leader, and a priest standing in the gap for your household.
God is counting on you, your family is counting on you, your community is counting on you, and you cannot fail.
As such, I am hoping these encouraging words from the Bible will help you answer the call of God for your life.
Moreover, we all have a role to play in God's plan on the earth, whether man or woman, but God is especially; counting on men.
Today I want to encourage men because I believe I have received a word from God to do so, and I trust that in the end, you will be motivated to walk uprightly, to watch your attitude toward your family, spouse, children, neighbors, church, and God's Word.
God is keeping an eye on you, and He expects you to honor Him by setting good examples for others to follow.
God has a plan for your life.
He will comfort you in hard times.
He will heal you when you are sick.
He will strengthen you when you are weak in your body, soul, and spirit.
He will answer your prayers when you call for help, and He will stay by your side through thick and thin if you allow this collection of encouraging bible verses for men to fill your spirit and soul.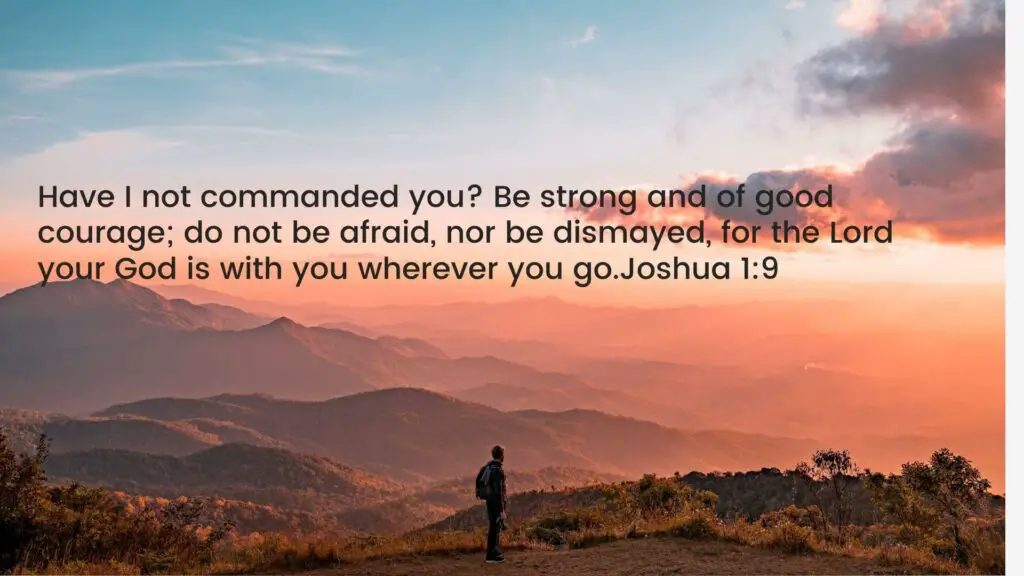 Encouraging Scriptures for Men
These Bible verses for men will encourage you to grow in your faith and seek God's guidance in your life. Use them to remind yourself throughout the day of the type of man you should strive to be and why.
1. Genesis 2:15
"Then the Lord God took the man and put him in the garden of Eden to tend and keep it."
Genesis might seem like an unusual place to start this list of encouraging scriptures for men. 
But, Genesis is where it all started and where God revealed His plan for men.
Whenever you find yourself in a difficult situation between a rock and a hard place, remember that God put you on the earth for a purpose as with Adam; and He has given you all the grace you need to overcome whatever situation may be bothering you. 
2. Joshua 1:9
"Have I not commanded you? Be strong and of good courage; do not be afraid, nor be dismayed, for the Lord your God is with you wherever you go."
This verse right here is one of my best bible verses for encouragement. 
To give you a better understanding of the situation with this encouraging scripture for men. Moses had just died, and God wanted Joshua to lead the nation of Israel into the Promised Land. 
But based on the context of the entire chapter 1 of this book, Joshua was afraid to lead, and he did not know what next to do.
Most of us know how the story ended. Joshua, who was once a fearful leader, unsure of what to do, turned into a fearless, passionate, mighty man of God. 
He successfully lead Isreal into the promised land and is called in Hebrews 11 a man of faith. 
You too can walk in Joshua's footsteps, but it will require a commitment to God's Word and His plan for your life. 
Are you going to take up the challenge? This is God talking to you "Have I not commanded you? Be strong and of good courage; do not be afraid, nor be dismayed, for the Lord your God is with you wherever you go." Go, you are a man of God.
3. Psalms 1:1-3
"Blessed is the man who walks not in the counsel of the ungodly, nor stands in the path of sinners, nor sits in the seat of the scornful, But his delight is in the law of the Lord, and in His law, he meditates day and night. He shall be like a tree planted by the rivers of water, that brings forth its fruit in its season, whose leaf also shall not wither; and whatever he does shall prosper."
You don't need to follow ungodly men and submit to worldly patterns. You are a man of God and as such God expects you to reject godlessness and walk in his ways. 
The blessings, fruitfulness, health, prosperity, hope, and peace that awaits the man described here in Psalm chapter 1 are more than enough to push you to obey God. 
Don't worry about hard times, you are a man of God, and you will overcome hard times.
4. Psalm 118:6
"The Lord is on my side; I will not fear. What can man do to me?"
The spirit of fear is one of the deadliest tools satan uses to stop men. The bible speaks about fear a lot and for good reason because fear can cripple our minds and cause us to miss out on God's blessings for our lives. 
Here again, we see God reminding you not to fear what ungodly men can do to you. But instead, focus, meditate and confess daily that God is on your side and you will not fail. 
God's word is sure, don't pay attention to your physical condition; watch through the lens of faith to see the glorious end that God has in store for you. 
All you need to do now is prepare yourself to receive from God by living a life pleasing to Him.
5. Psalm 119:9
"How can a young man cleanse his way? By taking heed according to Your word."
Maybe the devil is using your past against you, and you feel guilty, worthless, and unfit to be called a man of God.
Well, even David had issues too, in fact, he went as far as to commit adultery and orchestrated the death of an innocent man.  
I encourage you to read God's Word and in so doing you will find strength, inspiration, and the understanding to pray, obey, and lay aside sinful or unfruitful practices. 
6. Proverbs 27:17
"As iron sharpens iron, so a man sharpens the countenance of his friend."
You are a man, you were taught to be macho, control your emotions and keep everything inside.
Well, that would work if you were living on an island by yourself.
By nature, we are social beings and this scripture reminds us that we must reach out to others.
No man is an island by himself, and just like the human body consists of different parts that all work to help the body function efficiently, likewise men; we need each other so that we may all become the best versions of ourselves.
7. Jeremiah 29:11  
"For I know the thoughts that I think toward you, says the Lord, thoughts of peace and not of evil, to give you a future and a hope."
The average man doesn't enjoy making plans. You will more find the ladies fantasizing daily about their plans for the future. But guys tend to take it easy and go with the flow. 
While it may help you to live a stress-free life, failing to plan is planning to fail. 
As Jerimiah 29:11 says, "God has a plan," and I believe that He expects us to have a well-thought-out plan too for ourselves, family, career, and other things within our domain. 
Moreover, you can ask God what is His plan for you and then align your plans with His so that your plans will become failproof.  
8. I Corinthians 10:13
"No temptation has overtaken you except such as is common to man; but God is faithful, who will not allow you to be tempted beyond what you are able, but with the temptation will also make the way of escape, that you may be able to bear it."
Some men use what Jesus said in Matthew 26:41 …"The spirit is willing, but the flesh is weak" as an excuse to give in to temptations. But they forget what the beginning of that said verse says, "Watch and pray so that you will not fall into temptation…" 
As a man of God, you are to watch and pray so that you don't give in to the temptations the devil is throwing at you.
Moreover, 1 Corinthians 10:13 says that God will deliver you from temptations. But there is a condition that we so often miss… "exorcise patience and resist the devil." 
James 4:7 says, "Submit yourselves therefore to God. Resist the devil, and he will flee from you."
9. I Corinthians 16:13
"Watch, stand fast in the faith, be brave, be strong."
Some men with good intentions would rather sit and hope that on one good day things will get better for them and their families.
But it just doesn't work that way, not when you have a devil who is always seeking whom he may devour. 
As 1 Corinthians 16:13 puts it, "Watch, stand fast in the faith, be brave, be strong." This is the only way you will live a victorious life and function as the spiritual head of your family.
10. 2 Corinthians 4:16
"Therefore we do not lose heart. Even though our outward man is perishing, yet the inward man is being renewed day by day."
This verse makes the list of encouraging Bible verses for men because it is teaching us to be tenacious. 
I can't imagine seeing someone in the physical body experiencing excruciating pain but within, they are calm as a still river. 
Well, that is what 2 Corinthians 4:16 is telling us to do as men. To endure and take heart under pressure. But God is faithful and He will always help us when we cry out to Him and cannot go any further. 
You can trust God with your life, your family, and your future; He will not fail you. 
11. James 1:2-3
"My brethren, count it all joy when you fall into various trials, knowing that the testing of your faith produces patience."
Like the previous encouraging scripture for men, James 1:2-3 is warning us not to complain when we find ourselves in trials. 
As a man of God, trials aren't meant to break you, but to test you to the point where you will learn the virtue of patience and grow in maturity. 
12. James 1:19-20
"So then, my beloved brethren, let every man be swift to hear, slow to speak, slow to wrath; for the wrath of man does not produce the righteousness of God."
Why did this verse find itself in our collection of encouraging scriptures for men? Simple, because it speaks about the mouth.
Spoken words are powerful, they can create beautiful realities and at the same time destroy destinies. James warns us to listen well and to think before we talk. 
Life and death lie on the power of the tongue and what you say may be used against you in the spiritual court of law by the enemy to condemn you to an unpleasant reality. You do remember the story of Job, that's what the devil did to him but thank God Job did not speak loosely even though his friends and wife were pushing him to do so.
Revelation 12:10 says, …" for the accuser of our brethren is cast down, which accused them before our God day and night.."
13. James 5:16
"Confess your trespasses to one another, and pray for one another, that you may be healed. The effective, fervent prayer of a righteous man avails much."
We have made it to our final encouraging scripture for men, and it is a hard pill to swallow. 
Men generally do not like to talk much, let alone confess their sins to others.
But God's Word is God's Word, and whether we like it or not, because we are His servant, we must obey His Word. 
Surround yourself with Godly, faithful, humble men, be a servant to them, learn from them, and when you want to get those dark secrets off of your chest; confide in them, but make sure they meet those Christ-like traits I listed.
Final Word 
Men are the torchbearer of humanity that pave the way for Godly, sustainable societies. 
The world needs tenacious men, men who can lead strong families, encourage their wives, inspire disciplined children, and build stable communities for all to enjoy.
Without strong, fearless, faithful men at the helm, societies will plunge into ruins, and the wrath of God will quickly fall upon us.
Are you ready to take up your rightful position? 
Are you ready to lead and live a life pleasing to our God?
If so, God is talking to you, and He says " Have not I commanded thee? Be strong and of a good courage; be not afraid, neither be thou dismayed: for the LORD thy God is with thee whithersoever thou goest" (Joshua 1:9).