I would usually start my day with two solid hours of prayer, followed by reading the scriptures as a way to remind myself of God's faithfulness.
Yet, I will still feel anxious and fearful at times about certain situations beyond my control.
I'm not the first person that has happened to and I certainly won't be the last either. 
But you know what? I've made up my mind to trust God and to take Hime at his words. 
It's time for us to encourage ourselves in God's Word and say to the devil that enough is enough.
It's time for us to fight back, stand our ground, and see the salvation of our Lord.
To get us started, I've chosen the book of Psalms as our designated book to console us when we are anxious, afraid, and sad. 
Moreover, if adversities have overwhelmed you to the point where you are drowning in grief and sadness. I would recommend that you first check out our collection of Psalms to read when you are sad.
The Psalms are Powerful
I've always found the Psalms to be powerful. They are always close and personal and speak directly to us no matter what is our unique situation.
The Psalms are powerful when read with a sincere heart and with a strong desire to obey God. There's no power from hell that can stop you if your read, meditate, believe and follow the instructions highlighted in the Psalms; they are that powerful. After all, they too are the words of our God.
We're Both Seeking the Same Thing
Like you, I need to find rest, peace, and joy for my restless soul. A word to soothe my heart, mind, and to remind me that God is in control and He can deliver me and you from all of our anxieties and fears.
At this point, I'm encouraged; that's why I've decided to write about these encouraging Psalms to overcome fear and anxiety.
I pray that even as you would read the word of God, your heart, soul, mind, and body will find rest and hope in God. I pray that in the name of Jesus Christ that this very moment the Holy Spirit of God minister to you now and remind you of who you are and whose you are.
You are an heir of God and joint-heirs with Christ. You're blessed with favor (For You, O Lord, will bless the righteous; With favor, you will surround him as with a shield" – Psalm 5:12).
You're on God's mind and he has good plans for your life ("For I know the plans I have for you," declares the Lord, "plans to prosper you and not to harm you, plans to give you hope and a future" Jeremiah 29:11).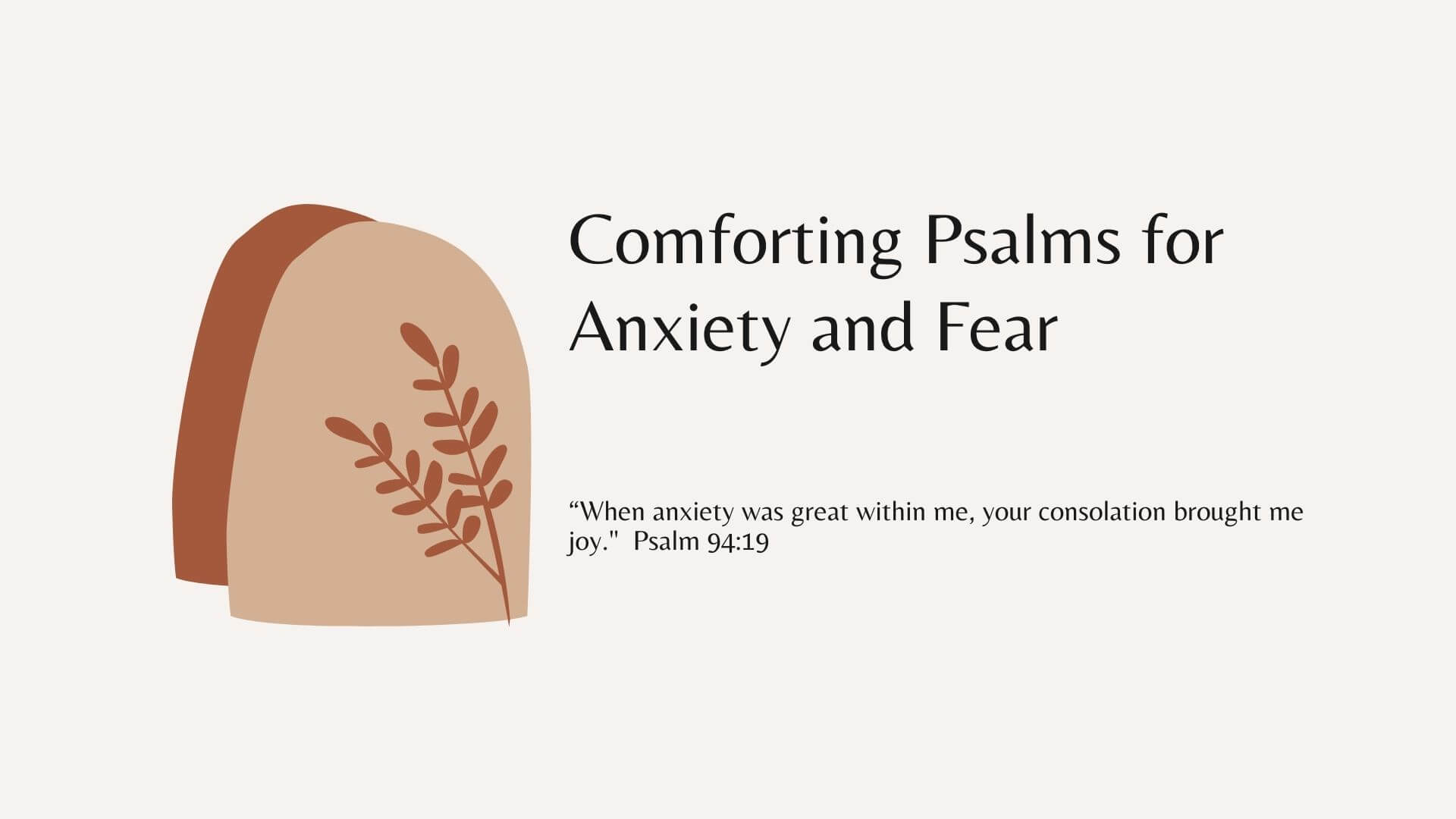 Psalms for Anxiety
You'll make it out alive with victory (When thou passest through the waters, I will be with thee; and through the rivers, they shall not overflow thee: when thou walkest through the fire, thou shalt not be burned; neither shall the flame kindle upon thee" Isaiah 43:2). Use the following Psalms to overcome anxiety and fear.
1. Psalm 94:19
"When anxiety was great within me, your consolation brought me joy (NIV).
2. Psalm 27:1
"The Lord is my light and my salvation; whom shall I fear? the Lord is the strength of my life; of whom shall I be afraid?"
3. Psalm 46:1-5
"God is our refuge and strength, an ever-present help in trouble. Therefore, we will not fear, though the earth give way and the mountains fall into the heart of the sea,
Though its waters roar and foam, and the mountains quake with their surging. There is a river whose streams make glad the city of God, the holy place where the Most High dwells.
God is within her; she will not fall; God will help her at the break of day.
4. Psalm 27: 3-7
"Though a host should encamp against me, my heart shall not fear though war should rise against me, in this will I be confident.
One thing have I desired of the Lord, that will I seek after; that I may dwell in the house of the Lord all the days of my life, to behold the beauty of the Lord, and to enquire in his temple.
For in the time of trouble he shall hide me in his pavilion: in the secret of his tabernacle shall he hide me; he shall set me up upon a rock.
And now shall mine head be lifted above mine enemies round about me: therefore, will I offer in his tabernacle sacrifices of joy; I will sing, yea, I will sing praises unto the Lord.
Hear, O Lord, when I cry with my voice: have mercy also upon me and answer me."
5. Psalm 31:1-5
"In you, Lord, I have taken refuge; let me never be put to shame; deliver me in your righteousness.
Turn your ear to me, come quickly to my rescue. be my rock of refuge, a strong fortress to save me.
Since you are my rock and my fortress, for the sake of your name lead and guide me.
Keep me free from the trap that is set for me, for you are my refuge. Into your hands I commit my spirit; deliver me, Lord, my faithful God."
6. Psalm 18:6
"In my distress, I called upon the LORD, and cried unto my God: he heard my voice out of his temple, and my cry came before him, even into his ears."
7. Psalm 28:1
"Unto thee will I cry, O LORD my rock; be not silent to me: lest, if thou be silent to me, I become like them that go down into the pit."
8. Psalm 34:17
"The righteous cry, and the LORD heareth, and delivereth them out of all their troubles."
9. Psalm 40:1
"I waited patiently for the LORD, and he inclined unto me, and heard my cry."
10. Psalm 61:2
"From the end of the earth will I cry unto thee, when my heart is overwhelmed: lead me to the rock that is higher than I."
11. Psalm 142:6
"Attend unto my cry; for I am brought very low: deliver me from my persecutors; for they are stronger than I."
12. Psalm 6:4
"Return, O LORD, deliver my soul: oh, save me for thy mercies' sake."
13. Psalm 7:1
"O LORD my God, in thee do I put my trust: save me from all them that persecute me and deliver me."
14. Psalm 17:13
"Arise, O LORD, disappoint him, cast him down: deliver my soul from the wicked, which is thy sword."
15. Psalm 32:2
"Bow down thine ear to me; deliver me speedily: be thou my strong rock, for a house of defense to save me."
16. Psalm 40:13
"Be pleased, O LORD, to deliver me: O LORD, make haste to help me."
A practical way to overcome anxiety and fear
Read. Read, and read some more. I cannot help but stress the importance of reading the scriptures daily. The more you read, the more your faith will grow and strengthen in God ("So then faith comes by hearing, and hearing by the word of God." Romans 10:17). You can even read other people's testimonies.
Believe. One of the greatest hurdles to believe is unbelief. Unbelief isn't only sinful, but it also cripples the mind and prevents the heart from believing God's promises. A good way to overcome doubts or unbelief is to approach God's promises with childlike faith. Don't overcomplicate things by overthinking and questioning unnecessarily, just believe them.
Meditation. Meditation is the key to success. Here's what God told Joshua "This book of the law shall not depart out of thy mouth; but thou shalt meditate therein day and night, that thou mayest observe to do according to all that is written therein: for then thou shalt make thy way prosperous, and then thou shalt have good success." Joshua 1:8.
Confession. Our confessions are powerful, so confess God's promises over your life and everything concerning you daily "The tongue has the power of life and death, and those who love it will eat its fruit." Proverbs 18:21.
Final Word on Fear
Anxiety and fear will come at some point in your life, it's a spirit that you must not entertain, but rebuke and confess God's promises over your life. God has not given you a spirit of fear, but a spirit of power, love, and a sound mind. By God's grace, you'll overcome, and even this will pass!