Read these Psalms when you are sad; they will bless your heart, crush your anxieties, build faith for deliverance, inspire strength for healing, and bring joy to your soul.
God wants you to be happy and joyous; the adversary wants you to be miserable; as a result, reading these 15 Psalms will silent any demon in your life. Here's what God says about you: 
"To appoint unto them that mourn in Zion, to give unto them beauty for ashes, the oil of joy for mourning, the garment of praise for the spirit of heaviness; that they might be called trees of righteousness, the planting of the Lord, that he might be glorified" (Isaiah 61:3).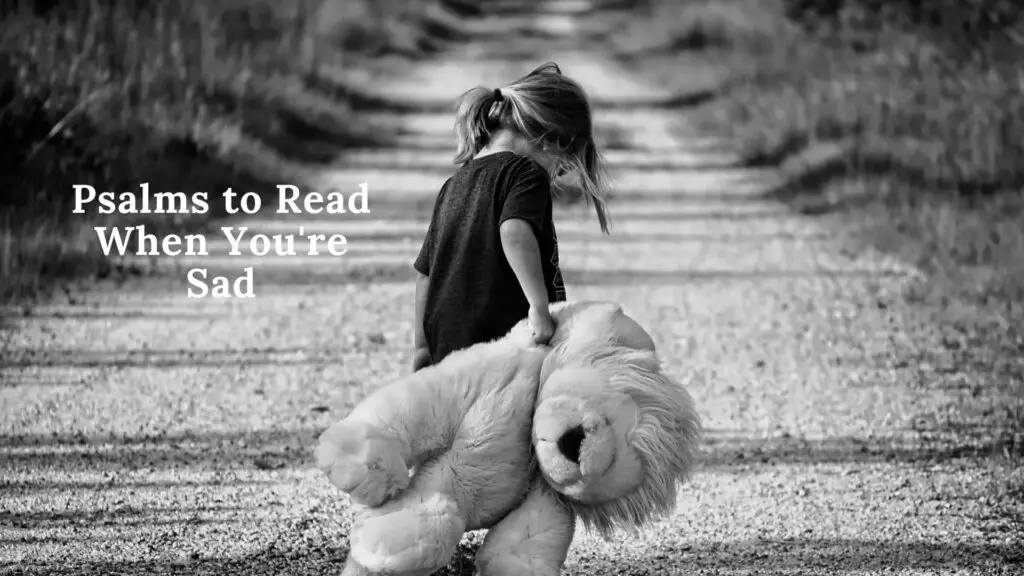 15 Psalms to Read When You're Sad
Even David, who wrote most of the Psalms, was sad many times, but the Lord delivered him whenever he cried. 
Moreover, David is the most suitable biblical character who walked with God to instruct us about sadness and what we must do to overcome it.
The following list of Psalms is ideal for persons feeling sad and needs a quick reminder that God is faithful.
You can count on God, even in turbulent times, because the Almighty God is our father, your father, and He will extend mercy and bring hope and joy to your life.
Psalm 34:17-20 
"The righteous cry out, and the LORD hears; He delivers them from all their troubles.
The LORD is near to the brokenhearted; He saves the contrite in spirit. 
Many are the afflictions of the righteous, but the LORD delivers him from them all. He protects all his bones; not one of them will be broken."
Psalm 5:11 
"But let all those that put their trust in thee rejoice let them ever shout for joy, because thou defendest them: let them also that love thy name be joyful in thee."
Psalm 16:11
 "Thou wilt shew me the path of life: in thy presence is fulness of joy; at thy right hand there are pleasures forevermore."
Psalm 30:5 
"For his anger endureth but a moment; in his favor is life: weeping may endure for a night, but joy cometh in the morning."
Psalm 51:8 
"Make me hear joy and gladness; that the bones which thou hast broken may rejoice."
Psalm 51:12
 "Restore unto me the joy of thy salvation and uphold me with thy free spirit."
Psalm 27:10 
"When my father and my mother forsake me, then the Lord will take me up."
Psalm 4:7
 "Thou hast put gladness in my heart, more than in the time that their corn and their wine increased."
Psalm 9:2
 "I will be glad and rejoice in thee: I will sing praise to thy name, O thou most High."
Psalm 34:2 
"My soul shall make her boast in the Lord: the humble shall hear thereof and be glad."
Psalm 35:27
"Let them shout for joy, and be glad, that favor my righteous cause: yea, let them say continually, Let the Lord be magnified, which hath pleasure in the prosperity of his servant."
Psalm 40:16
"Let all those that seek thee rejoice and be glad in thee: let such as love thy salvation say continually, The Lord be magnified."
Psalm 34:6 
"This poor man cried, and the Lord heard him and saved him out of all his troubles."
Psalm 35:25 
"I have been young, and now am old; yet have I not seen the righteous forsaken, nor his seed begging bread."
Psalms 27:1-6
 "The Lord is my light and my salvation—whom shall, I fear? The Lord is the stronghold of my life—of whom shall I be afraid?
2 When the wicked advance against me to devour me, it is my enemies and my foes who will stumble and fall.
3 Though an army besiege me, my heart will not fear.
though war break out against me, even then I will be confident.
4 One thing I ask from the Lord, this only do I seek:
that I may dwell in the house of the Lord all the days of my life to gaze on the beauty of the Lord and to seek him in his temple.
5 For in the day of trouble he will keep me safe in his dwelling; he will hide me in the shelter of his sacred tent and set me high upon a rock.
6 Then my head will be exalted above the enemies who surround me; at his sacred tent I will sacrifice with shouts of joy; I will sing and make music to the Lord."
What Does the Bible Say About Sadness?
Sadness is a spirit that comes to steal your joy and rob you of every good thing that God has in store for you. Sadness is not of God; it's of the devil and world. As a child of God, it's your God-given right to overcome the spirit of sadness by God's grace.
Read Jesus's view on sadness and sorrow: "I have told you all this so that you may have peace in me. Here on earth, you will have many trials and sorrows. But take heart because I have overcome the world" (John 16:33).
What Does the Bible Say About a Sad Heart?
The Bible encourages those with a sad heart to rejoice, praise, and trust in God because He's is close to the brokenhearted and saves those who are crushed in spirit. That said, it's not easy praising God with a sad heart, but therein lies your victory when you decide to trust God instead of falling prey to your adverse circumstances.
You can read more about what God says about having a sad heart here:
Psalm 42:5 "Why art thou cast down, O my soul? and why art thou disquieted in me? hope thou in God: for I shall yet praise him for the help of his countenance."
Isaiah 61:1-3 "The Spirit of the Sovereign LORD is on me because the LORD has anointed me to preach good news to the poor. He has sent me to bind up the brokenhearted, to proclaim freedom for the captives and release from darkness for the prisoners, 
2 To proclaim the year of the LORD's favor and the day of vengeance of our God, to comfort all who mourn,
3 And provide for those who grieve in Zion– to bestow on them a crown of beauty instead of ashes, the oil of gladness instead of mourning, and a garment of praise instead of a spirit of despair. They will be called oaks of righteousness, a planting of the LORD for the display of his splendor."
What Does the Bible Say About Pain and Sorrow?
According to scriptures, pain and sorrow are spirits that seek to manifest themselves when life is hard, and your back is against the wall. Pain, sorrow, and grief are not from God; the devil uses it as a weapon to cause you to give up and stop believing in God. 
Mind you, God does allow it, but it's not from Him.
Reach can read about it here:
2 Corinthians 12:7 "And lest I should be exalted above measure through the abundance of the revelations, there was given to me a thorn in the flesh, the messenger of Satan to buffet me, lest I should be exalted above measure."
What is the Sin of Sadness?
The sin of sadness is when God allows the devil to oppress you with sadness, frustration, pain, grief, and sorrow. God allows this either because of committed unconfessed sins or because it's your hour of trials and temptation. 
You are read more about this in Job 1 and in:
Proverbs 1:26:28 "I also will laugh at your calamity; I will mock when your fear cometh.
27 When your fear cometh as desolation, and your destruction cometh as a whirlwind; when distress and anguish cometh upon you.
28 Then shall they call upon me, but I will not answer; they shall seek me early, but they shall not find me.
Is Being Sad Bad?
Being sad isn't sin, but you can often run into trouble when you begin to doubt God because of your sad outlook on life. The scripture encourages us to rejoice under all conditions and to always give God thanks.
Read about it here:
1 Thessalonians 5:16-18 "Rejoice always, pray continually, give thanks in all circumstances; for this is God's will for you in Christ Jesus."
Why Do Many of the Psalms of David Sound so Sad?
Because most of the Psalms written by David were written when he was in the wilderness running, either from Saul who wanted him dead or from his son Absalom who wanted to dethrone him.
What is an example of a Sad Psalm?
Psalm 88 is a good example of a sad Psalm. In this Psalm, David cries and lament before God day and night complaining about his troubles and how God seeming has forgotten him.
Here' are Psalm 88 if you care to read it:
Psalm 88 "O lord God of my salvation, I have cried day and night before thee:
2 Let my prayer come before thee: incline thine ear unto my cry.
3 For my soul is full of troubles: and my life draweth nigh unto the grave.
4 I am counted with them that go down into the pit: I am as a man that hath no strength:
5 Free among the dead, like the slain that lie in the grave, whom thou rememberest no more: and they are cut off from thy hand.
6 Thou hast laid me in the lowest pit, in darkness, in the deeps.
7 Thy wrath lieth hard upon me, and thou hast afflicted me with all thy waves. Selah.
8 Thou hast put away mine acquaintance far from me; thou hast made me an abomination unto them: I am shut up, and I cannot come forth.
9 Mine eye mourneth by reason of affliction: Lord, I have called daily upon thee, I have stretched out my hands unto thee.
Final Thoughts
I'd encourage you to read these Psalms when you are sad and feel like giving up. These Psalms are powerful, relevant, and applies to any situation in life. You can also call up a brother or sister from your church to help you pray and declare God's word over your life if you feel overwhelm by sadness.