One of the hardest, if not the most formidable quest you will come across in your life, is getting answers to questions about God. Questions like: 
Why doesn't God show his face? 
Why doesn't God stop evil? 
Will god reveal himself to me? 
And many other questions about God you may wish you had all the right answers to.
Your life, success, family, career, destiny, deliverance, salvation, and pending decisions may depend on you having accurate answers to questions about God. 
Otherwise, one piece of wrong information about God may send you down a path of no return.
For this reason, getting the right information is vital, and in this post, I'll answer some of those burning questions on your mind and many other answers to questions about God you may need to know.
Here's what you need to know about God to bring some clarity to your mind and understanding: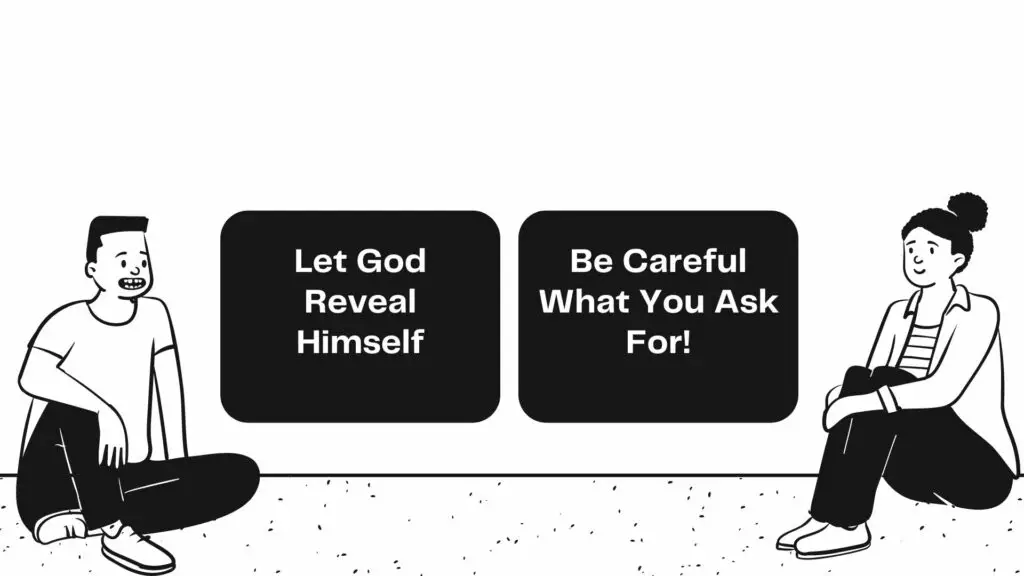 1. Has God Ever Shown Himself?
Yes, God revealed himself to Moses at Mount Sinai where God only permitted Moses to see his face. 
Read it here: Exodus 33:18-23 "Then Moses said, "Now, please show me your glory [ his manifest presence]."
19 The Lord answered, "I will cause all my goodness to pass in front of you, and I will announce my name, the Lord, so you can hear it. I will show ·kindness [favor] to anyone to whom I want to show ·kindness [favor], and I will show mercy [compassion] to anyone to whom I want to show ·mercy [compassion]. 
20 But you cannot see my face, because no one can see me and live.
21 There is a place near me where you may stand on a rock. 
22 When my glory passes that place, I will put you in a large crack in the rock and cover [screen] you with my hand until I have passed by. 
23 Then I will ·take away [remove] my hand, and you will see my back. But my face must not be seen."
2. Why Doesn't God Show Himself
Let's make one thing clear, God isn't hiding, and He still speaks to us, but He doesn't show himself as we would like because He is sovereign and not obligated to reveal Himself to us, whether in dreams or literally. 
By the way, God is too glorious to reveal himself to our natural eyes as He did to Moses. But that's not to say He can't; He can, but to holy, passionate, lowly souls who desire or call on Him for help. 
Note: God will never reveal His face to anyone here on earth.
3. Why Doesn't God Show His Face?
Because God's face is too luminous (bright) to be revealed to anyone. 
And even if God wants to, or sees it fit to reveal His face to someone, he would be unable to simply because our physical eyes won't be able to see Him. 
Just imagine looking at the bright sun at noon without any glasses on: it's just not possible, you will damage your eyes, or unless you are physically blind. 
God is brighter than the sun, and like the sun, your physical eyes aren't able to see God, it just isn't going to happen.
It continues here: Exodus 34:6-8 "The Lord passed in front of Moses and said, "I am the Lord. The Lord is a God who shows ·mercy [compassion], who is ·kind [gracious], who doesn't become angry quickly [patient], who has great love [loyalty] and faithfulness 
7 And is kind to thousands of people. The Lord forgives people for evil, for sin, and for turning against him, but he does not forget to punish guilty people. He will punish not only the guilty people, but also their children, their grandchildren, their great-grandchildren, and their great-great-grandchildren to the third and fourth generations."
4. Why Doesn't God Show Up?
God can do all things, not just some things. God can speak, and He can show up to you if you desire and is passionate about seeking Him daily with a sincere heart, and whether in good times, bad times, or anytime. 
The scriptures make clear that if you seek God, you will find Him "And you will seek Me and find Me when you search for Me with all your heart" (Jerimiah 29:13).
5. Why Doesn't God Appear to Everyone?
God hasn't appeared to everyone because not everybody can stand in the presence of God. 
God isn't hiding, and He can reveal Himself to anyone as seen in the scriptures. But God, most of the time chooses to reveal himself to persons who obey Him. You can find that here: "Jesus replied, "Anyone who loves me will obey my teaching. My Father will love them, and we will come to them and make our home with them: (John 14:23).
6. Will God Reveal Himself to Me?
Yes, God can reveal himself to you but it's in your hands and you will have to seek diligently after God. 
God's desire is to reveal himself to all men, but not seek to even believe that the Almighty God who created heaven, earth, and everything else exit. 
But you can decide to seek God with a pure heart, and He will reveal himself to you faster than you think. 
Here's a scripture to support this: "You will seek me and find me when you seek me with all your heart" (Jerimiah 29:13).
7. Does God Know Everything About Me?
God is omniscient (all-knowing) and He knows everything about you. God even knows how many hairs you have on your head "But even the very hairs of your head are all numbered…" (Luke 12:7)
8. Does God Know How My Life Will Turn Out?
God knows how everyone's life will turn out, whether good or bad, success or failure, He knows even before you were born.
If you are someone who reads the Bible regularly, you will eventually come across these verses: "I am the Alpha and the Omega, the first and the last, the beginning and the end" (Revelation 22:13).
"I am the Alpha and the Omega," says the Lord God, "who is and who was and who is to come, the Almighty" (revelation 1:8).
9. Why Doesn't God Help Me?
God does care about you; He answers prayers, and He can use you. God sometimes doesn't help us because we are rebellious, disobedient, and don't seek Him with a sincere heart. 
Note: To get anything from God, you need faith. Just money in this world, faith is a currency in the kingdom of God that you need to pull God's favor and help. 
You will also need to address any doubts you may have when praying to God for anything.
Read these verses: "But without faith, it is impossible to please him: for he that cometh to God must believe that he is, and that he is a rewarder of them that diligently seek him" (Hebrews 11:6).
"But when you ask, you must believe and not doubt, because the one who doubts is like a wave of the sea, blown and tossed by the wind. That person should not expect to receive anything from the Lord. Such a person is double-minded and unstable in all they do" (James 1:6-8).
10. If God Knows Everything, why is it My Fault?
God knows everything but you are still responsible for your life. You can't blame God when things go bad in your life; it's your fault. You are the one God has given godlike abilities to live a victorious, joyful, successful, fulfilled life here on earth. 
Here's an example in scriptures of someone who was asking God for help and hear what God told him:
"But he said to me, "My grace is sufficient for you, for my power is made perfect in weakness." Therefore, I will boast all the more gladly about my weaknesses, so that Christ's power may rest on me" (2 Corinthians 12:9).
In 2 Corinthians 12:9, God was telling Paul that he (Paul) was given all that he needed to overcome any situation that he would ever face in life. That's why Paul rejoiced after hearing what God had to say.
As such, you are responsible to live your life who you see fit based on your beliefs or convictions. Not God, not the devil, not your spouse, not your children, not your friends, but you. And whether the outcome is good or bad, you are the one responsible.
11. If God Knows Everything, what is the Point?
The point here is that God created everything for a purpose, we can choose either to fulfill that purpose or ignore it, but it doesn't change that you were created for a purpose and that's the point.
What you need to do is to connect with your purpose and then you will begin to understand why God created you.
12. If God Knows Everything Why Did He Create Us?
God knows everything and He created man to serve Him, and even though some people don't obey Him, He knows that many people will follow Him. That way, at the end of the day, God's will be fulfilled.
13. Why Doesn't God Stop Evil?
Because God has given the earth to men to have dominion over it and He will not revoke His order. 
Ask yourself this question. Who performs evil deeds? Is it God, the devil, or men?
It's not God who does evil: "Every good gift and every perfect gift is from above, coming down from the Father of lights, with whom there is no variation or shadow due to change" (James 1:17). 
God's intention and plan from the beginning is to bless men, not harm them. "For I know the plans I have for you," declares the Lord, "plans to prosper you and not to harm you, plans to give you hope and a future" (Jerimiah 29:11).
Surprise, it's not the devil who carries out evil: just as Jesus needed a body to come to the earth to perform good works, likewise, the devil cooperates with men to perform evil. 
Don't get me wrong, the devil is evil, he's the father of evil. But as evil, as the devil is, he cannot carry out his evil schemes without man's help.
Men perform evil: you heard right, men are the ones who actually carry out the evil, even if it was the devil who fills their hearts with wickedness and temped them to do evil. 
The last mass shooting; who did it? Men. The robbery you saw over the news; who did it? Men. The violence we're seeing daily; who is executing it? Men. 
As you can see, men carry out the evil mandates of the devil. "You are of your father the devil, and your will is to do your father's desires. He was a murderer from the beginning and does not stand in the truth, because there is no truth in him. When he lies, he speaks out of his own character, for he is a liar and the father of lies" (John 8:44).
Final Thoughts
There are so many more fundamental questions about God; it's not possible to answer them all in one post. But the ones answered here are ideal to get you started on your quest to find out more about God and what He may have in store for you.
Free free to drop further questions below if you want clarity on anything we didn't cover in this post.