Demonic or oppression of any sort will leave you discouraged, confused, frustrated, and sad.  
John 16:24 says, … "Ask, and you will receive, that your joy may be full." You see when we ask God for something and don't receive it the devil frustrates our joy to the point where we become sad and depressed. 
But here is a collection of encouraging Psalms for when you are sad; I'd recommend that you read them to boost and build your faith as you seek the Lord for His divine intervention and deliverance from satanic oppression.
The bible says that the devil cometh not but to kill, steal, and destroy (John 10:10).
The devil is a master at work in the flesh realm, and he will eat and spit out your bones if you don't know your rights as a child of God. 
This is why it's so important to read and learn the scriptures. Otherwise, the devil will rob you of your inheritance. 
Nevertheless, if you're a child of God, or in the process of becoming one; there's no need for you to worry.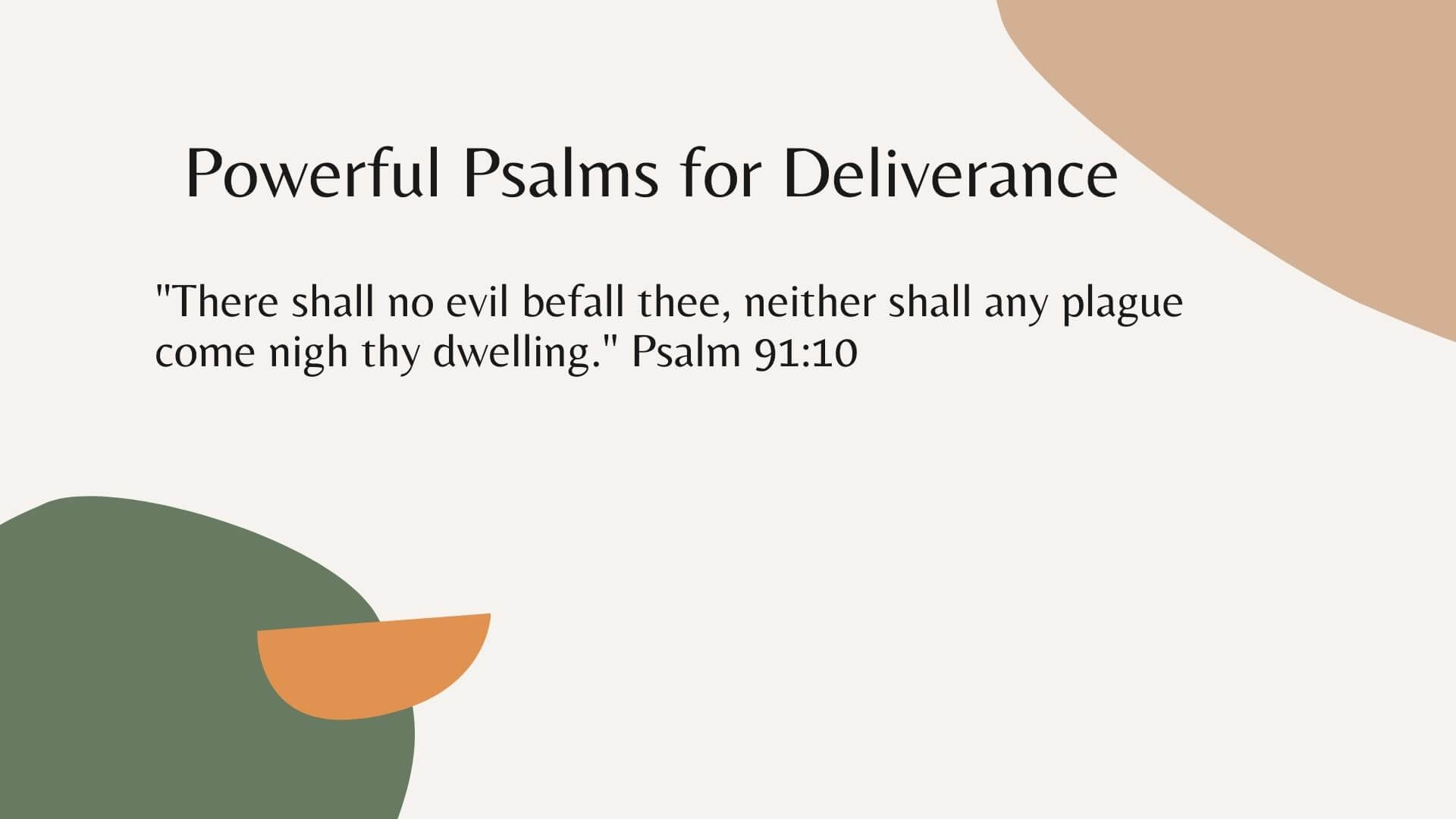 Psalms for Deliverance
As you believe in God's power, love, and grace, anything or situation that is presently holding back will let you go today.  These 19 psalms for deliverance will remind us that God will deliver us when we cry out to Him for help..
1. Psalm 32:7
"Thou art my hiding place; thou shalt preserve me from trouble; thou shalt compass me about with songs of deliverance. Selah."
2. Psalm 27:1-3 
"The Lord is my light and my salvation; whom shall I fear? the Lord is the strength of my life; of whom shall I be afraid?
2 When the wicked, even mine enemies and my foes, came upon me to eat up my flesh, they stumbled and fell.
3 Though a host should encamp against me, my heart shall not fear: though war should rise against me, in this will I be confident."
3. Psalm 27:12-13
"Deliver me not over unto the will of mine enemies: for false witnesses are risen up against me, and such as breathe out cruelty. I had fainted unless I had believed to see the goodness of the Lord in the land of the living."
4. Psalm 92:1-3
"He that dwelleth in the secret place of the most High shall abide under the shadow of the Almighty.
2 I will say of the Lord, He is my refuge and my fortress: my God; in him will I trust.
3 Surely he shall deliver thee from the snare of the fowler, and from the noisome pestilence."
5. Psalm 91:4-9
"He shall cover thee with his feathers, and under his wings shalt thou trust: his truth shall be thy shield and buckler.
5 Thou shalt not be afraid for the terror by night; nor for the arrow that flieth by day;
6 Nor for the pestilence that walketh in darkness; nor for the destruction that wasteth at noonday.
7 A thousand shall fall at thy side, and ten thousand at thy right hand; but it shall not come nigh thee.
8 Only with thine eyes shalt thou behold and see the reward of the wicked.
9 Because thou hast made the Lord, which is my refuge, even the most High, thy habitation."
6. Psalm 91:10-13
"There shall no evil befall thee, neither shall any plague come nigh thy dwelling.
11 For he shall give his angels charge over thee, to keep thee in all thy ways.
12 They shall bear thee up in their hands, lest thou dash thy foot against a stone.
13 Thou shalt tread upon the lion and adder: the young lion and the dragon shalt thou trample under feet."
7. Psalm 23:4-5
"Yea, though I walk through the valley of the shadow of death, I will fear no evil: for thou art with me; thy rod and thy staff they comfort me.
5 Thou preparest a table before me in the presence of mine enemies: thou anointest my head with oil; my cup runneth over."
8. Psalm 109:26
Help me, O Lord my God: O save me according to thy mercy:
9. Psalm 12:1
Help, Lord; for the godly man ceaseth; for the faithful fail from among the children of men.
10. Psalm 22:11
Be not far from me; for trouble is near; for there is none to help.
11. Psalm 22:19
But be not thou far from me, O Lord: O my strength, haste thee to help me.
12. Psalm 27:9
Hide not thy face far from me; put not thy servant away in anger: thou hast been my help; leave me not, neither forsake me, O God of my salvation.
13. Psalm 38:22
Make haste to help me, O Lord my salvation.
14. Psalm 40:13
Be pleased, O Lord, to deliver me: O Lord, make haste to help me.
15. Psalm 42:5
Why art thou cast down, O my soul? and why art thou disquieted in me? hope thou in God: for I shall yet praise him for the help of his countenance.
16. Psalm 44:26
Arise for our help, and redeem us for thy mercies' sake.
17. Psalm 70:1
Make haste, o God, to deliver me; make haste to help me, O Lord.
18. Psalm 109:26
Help me, O Lord my God: O save me according to thy mercy.
19. Psalm 119:175
Let my soul live, and it shall praise thee; and let thy judgments help me.
Why These 19 Psalms for Deliverance?
In addition to being some of the most powerful Psalms in their expressions, these Psalms are uplifting and they make you feel like God knows exactly what you are going through.
I would encourage you to trust God; take a timeout to carefully read and meditate on these Psalms to finally crush those spirits of anxiety and fear that have been stealing your joy and peace of mind. 
Moreover, these Psalms give us hope to confront and conquer our daily struggles, even those that we don't want anyone but ourselves to know
.
Inhale, exhale, there is hope for you, and these encouraging words from scripture may be
just
what you need for a new beginning in your life
.
How to Use Psalms t

o Get Fast Results?
The easiest and quickest way to get the most out of these psalms is by prayer them over your life. The idea is not to complicate things and make them too hard then they have to be, just repeat the psalms, say them with passion and conviction. And be sensitive to the leading of the Holy Spirit of God. For example, you can repeat Psalm 91 as it is and where you say "thee or ye," replace it with "you."
Summery 
God has your best interest at heart, the devil is a liar, and he will try to hold you in bondage. But resist the devil and pray these psalms over your life and also over the life of your children.