These are not sad Psalms. But these are uplifting Psalms to defeat sadness. 
As you read them, I trust that the Holy Spirit will minister, bless, and encourage you.
Whether you find yourself between a rock and a hard place or life has dished out a hard blow at you, these Psalms about sadness are excellent Psalms to read when you are sad.
God wants you to be happy, prosperous, and joyful, but the devil wants you sad and will try his best to frustrate you. 
But guess what? Today you will learn how to shut down the devil.
But first, let's hear what God says about sadness:
"To appoint unto them that mourn in Zion, to give unto them beauty for ashes, the oil of joy for mourning, the garment of praise for the spirit of heaviness; that they might be called trees of righteousness, the planting of the Lord, that he might be glorified." (Isaiah 61:3)
God isn't the author of your pain, setbacks, or sadness; it's the devil creating situations and circumstances in your life to make you feel depressed, sad, and frustrated.
But don't be too hard on yourself, even David felt sad at times: 
Psalm 13:2 says,  "How long shall I take counsel in my soul, having sorrow in my heart daily? how long shall mine enemy be exalted over me?"
Psalm 116:3 "The sorrows of death compassed me, and the pains of hell gat hold upon me: I found trouble and sorrow."
Psalm 55:10 "Day and night they go about it upon the walls thereof: mischief also and sorrow are in the midst of it."
Psalm 22:2 "O my God, I cry in the daytime, but thou hearest not, and in the night season, and am not silent."
Psalm 69:3 "I am weary of my crying: my throat is dried: mine eyes fail while I wait for my God."
Do you see? David felt the same way you're feeling right now, even I feel sad when things aren't working out the way I want them to, and many times I thought that; "God was watching and letting me slip away."
But I know that our God is faithful, which is why I've carefully selected these 21 uplifting Psalms to read when I'm sad. These have blessed me, and I have no doubt they will bless and start a new chapter in your life.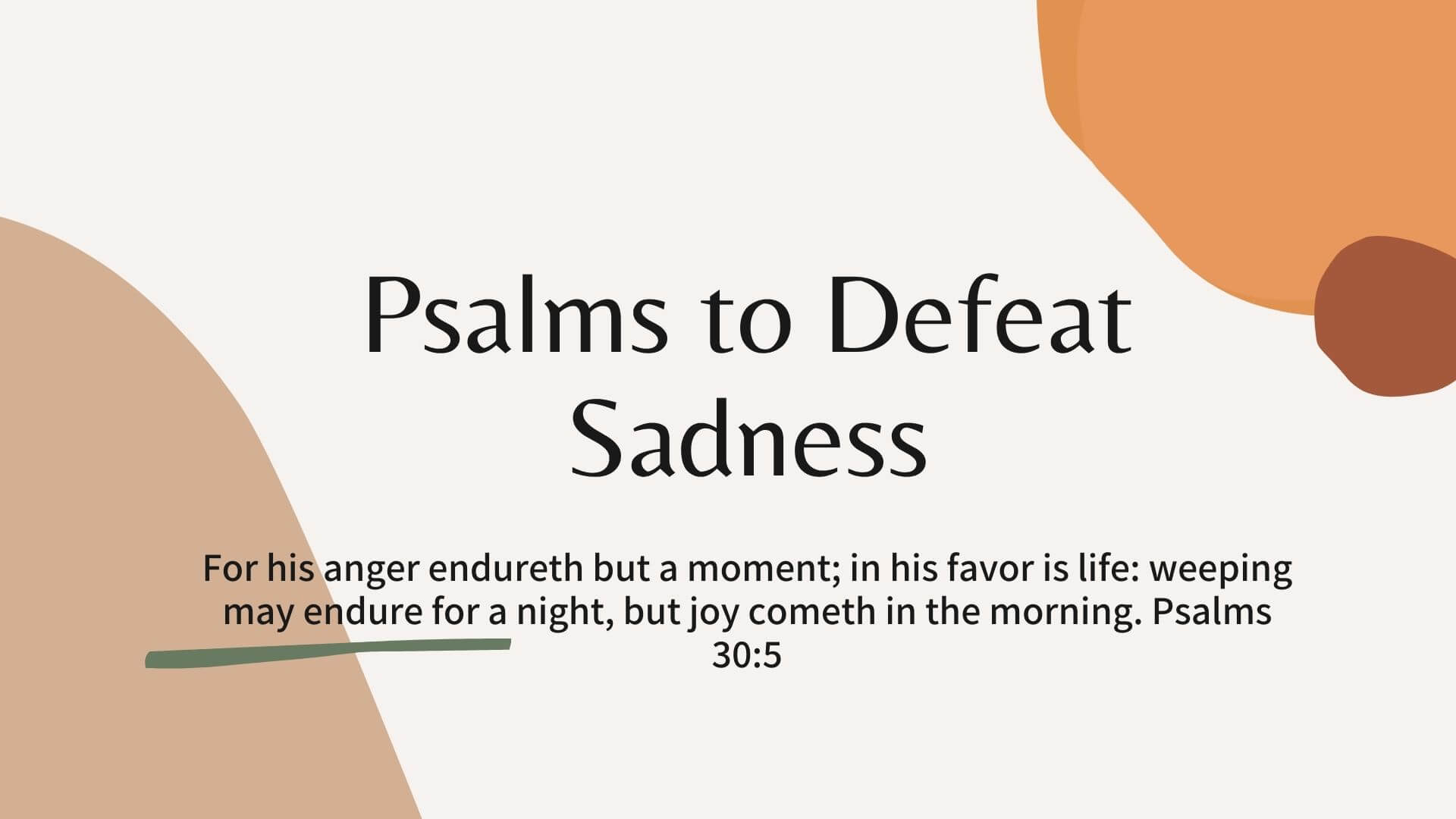 Psalms About Sadness
You may be battling with sickness, loss of a loved one, job, struggling to cope with a broken relationship, marriage is going under, kids are rebellious, or just getting ready to do major surgery. Whatever is causing you to lose hope and feel sad, here are a few encouraging Psalms to read, meditate, confess, and always remember.
Psalm 5:11
But let all those that put their trust in thee rejoice: let them ever shout for joy, because thou defendest them: let them also that love thy name be joyful in thee.
Psalm 16:11
Thou wilt shew me the path of life: in thy presence is fulness of joy; at thy right hand there are pleasures forevermore.
Psalm 30:5
For his anger endureth but a moment; in his favor is life: weeping may endure for a night, but joy cometh in the morning.
Psalm 51:8
Make me to hear joy and gladness; that the bones which thou hast broken may rejoice.
Psalm 51:12
Restore unto me the joy of thy salvation, and uphold me with thy free spirit.
Psalm 63:5
My soul shall be satisfied as with marrow and fatness, and my mouth shall praise thee with joyful lips:
Psalm 27:10
When my father and my mother forsake me, then the Lord will take me up.
Psalm 4:7
Thou hast put gladness in my heart, more than in the time that their corn and their wine increased.
Psalm 9:2
I will be glad and rejoice in thee: I will sing praise to thy name, O thou most High.
Psalm 34:2
My soul shall make her boast in the Lord: the humble shall hear thereof, and be glad.
Psalm 35:27
Let them shout for joy, and be glad, that favor my righteous cause: yea, let them say continually, Let the Lord be magnified, which hath pleasure in the prosperity of his servant
Psalm 40:16
Let all those that seek thee rejoice and be glad in thee: let such as love thy salvation say continually, The Lord be magnified.
Psalm 126:2
Then was our mouth filled with laughter, and our tongue with singing: then said they among the heathen, The Lord hath done great things for them.
Psalm 146:5
Happy is he that hath the God of Jacob for his help, whose hope is in the Lord his God:
Psalm 23:4
Yea, though I walk through the valley of the shadow of death, I will fear no evil: for thou art with me; thy rod and thy staff they comfort me.
Psalm 71:21
Thou shalt increase my greatness and comfort me on every side.
Psalm 77:2
In the day of my trouble, I sought the Lord: my sore ran in the night, and ceased not: my soul refused to be comforted.
Psalm 35:9
And my soul shall be joyful in the Lord: it shall rejoice in his salvation.
Psalm 95:1
O come, let us sing unto the Lord: let us make a joyful noise to the rock of our salvation.
Psalm 98:4
Make a joyful noise unto the Lord, all the earth: make a loud noise, and rejoice, and sing praise.
Psalm 113:9
He maketh the barren woman to keep house and to be a joyful mother of children. Praise ye the Lord.
Why Read These 21 Psalms When You are Sad?
Well, throughout my life, I've discovered and rediscovered that praise and worship to God are the best ways to beat and drive out the spirit of sadness. 
 God inhabits the praises of his people; when you praise him, he will arise in your situation and cause the devil or whatever is troubling you to flee. 
For this reason, I selected these 20 uplifting psalms and will encourage you to read them when you are sad because they will push you to praise God even in the face of adversities.
You're blessed; the Lord is your portion; He is with you, and don't allow the devil or anything to steal your joy. If these Psalms have been a blessing to you, why not share them with friends as well.