These encouraging scriptures are a breath of fresh air for men going through hard times.
You will find peace, upliftment, and encouragement in the Word of God. 
God has given us His Word, and His Word gives us hope as we face the hardships of life. 
The Word of God fills us with joy and reminds us that we are not alone, that He is with us.
"What is a good Bible verse for men who are going through hard times."
Some of the most encouraging scriptures for men who are carrying heavy burdens are John 3:16-17, Romans 10:9-10, Isaiah 41:10, and many more that can inspire, bless, minister hope, bring peace, and uplift men who are going through hard times.
Before leaving this world to meet His Father in heaven, our Lord Jesus Christ warned us that we would suffer adversity, saying, "But take courage, I overcome the world" (John 16:33).
Jesus is, therefore, our hope of glory; he loves us in the same way as our father, God.
Men, by God's design, are to lead, protect, and provide for their families in any situation because it is the will of God for all men. 
 There is always a situation that will confront us as men, and because we are priests in our families, the devil will intensify his attacks to us silence us and our families.
But there is hope; God has given us new breath and new strength via His Word so that along with him, we can face and overcome whatever challenge life or the devil throws our way.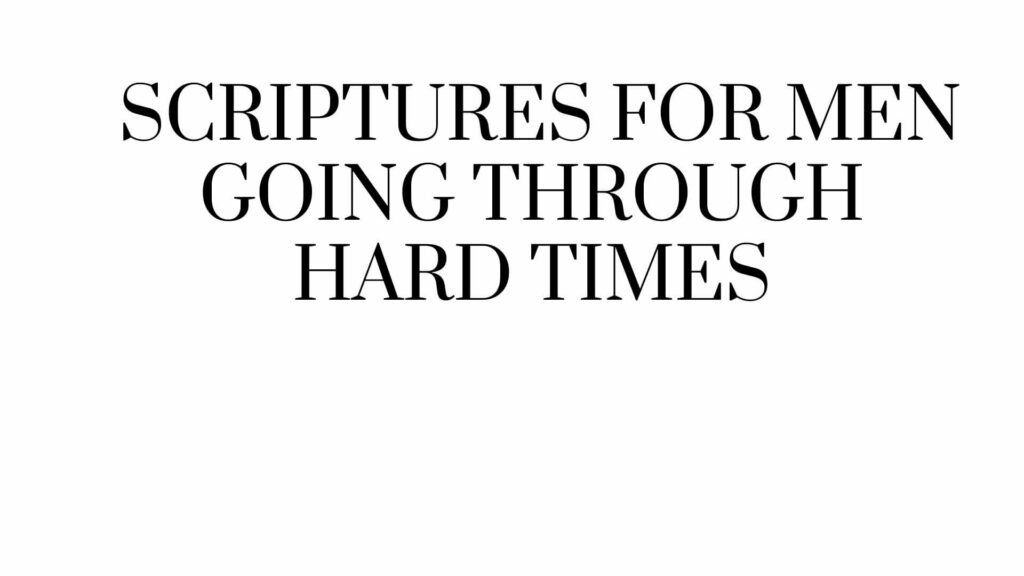 Scriptures for Men who are Going Through Hard times
The voice of God reassures, consoles, calms, encourages, and fills us with peace at all times.
In the Bible, we will find verses of encouragement in difficult times, and I invite you to read them at all times with faith, hope, and patience.
Joshua 1:9 
"Have I not commanded you? Be strong and courageous. Do not be afraid; do not be discouraged, for the Lord your God will be with you wherever you go."
 James 1:2-3 
"Consider it pure joy, my brothers and sisters, whenever you face trials of many kinds because you know that the testing of your faith produces perseverance."
 2 Corinthians 4:16 
"Therefore, we do not lose heart. Though outwardly we are wasting away, yet inwardly we are being renewed day by day."
Deuteronomy 31:6
Be strong and courageous. Do not be afraid or terrified because of them, for the Lord your God goes with you; he will never leave you nor forsake you.
Isaiah 40:29-31
He gives strength to the weary and increases the power of the weak. Even youths grow tired and weary, and young men stumble and fall; but those who hope in the Lord will renew their strength. They will soar on wings like eagles; they will run and not grow weary, they will walk and not be faint.
Ephesians 6:10
Finally, my brothers, be strong in the Lord and in the power of His might.
Psalm 18:34
He trains my hands for battle; my arms can bend a bow of bronze.
1 Timothy 4:12
Don't let anyone look down on you because you are young, but set an example for the believers in speech, in conduct, in love, in faith and in purity.
Psalms 1:1-3
"Blessed is the man who walks not in the counsel of the ungodly, nor stands in the path of sinners, nor sits in the seat of the scornful; But his delight is in the law of the Lord, and in His law he meditates day and night. He shall be like a tree planted by the rivers of water, that brings forth its fruit in its season, whose leaf also shall not wither; and whatever he does shall prosper."
Psalm 118:6
"The Lord is on my side; I will not fear. What can man do to me?"
Proverbs 27:17
"As iron sharpens iron, so a man sharpens the countenance of his friend."
Jeremiah 29:11  
"For I know the thoughts that I think toward you, says the Lord, thoughts of peace and not of evil, to give you a future and a hope."
I Corinthians 10:13
"No temptation has overtaken you except such as is common to man; but God is faithful, who will not allow you to be tempted beyond what you are able, but with the temptation will also make the way of escape, that you may be able to bear it."
Bible Verses To Encourage in Difficult Times
God's word invigorates our spirits and motivates us to move forward in whatever circumstances we find ourselves in.
His words are like medicine to the hearts of those who are suffering. Hearing God's voice through His words and obeying them will cause us to be engulfed in the glory of His presence.
The key is to understand how important we are to Him and how much he loves and cares for us, his children.
God will always be interested in assisting us in overcoming adversity.
If you are feeling distant from the ultimate source of life (God) at this moment,
I'm going to share with you a series of Bible verses that will provide you with strong support and serve as a strong foundation from which you can hold on until the storm passes.
Cheer up, "Thou Man Of God," God's grace is sufficient, for with, Him there is no storm that can bring you down. In God's hands, you are safe.
Psalm 9:9-10
The Lord is a refuge for the oppressed, a stronghold in times of trouble. Those who know your name trust in you, for you, Lord, have never forsaken those who seek you.
Philippians 4:19
And my God will meet all your needs according to the riches of his glory in Christ Jesus.
Psalm 32:7-8 
You are my hiding place; you will protect me from trouble and surround me with songs of deliverance. I will instruct you and teach you in the way you should go; I will counsel you with my loving eye on you.
1 Peter 5:7
Casting all your anxieties on him, because he cares for you.
Romans 8:18
For I consider that the sufferings of this present time are not worth comparing with the glory that is to be revealed to us.
1 Peter 1 6-7
In this you rejoice, though now for a little while, if necessary, you have been grieved by various trials, so that the tested genuineness of your faith—more precious than gold that perishes though it is tested by fire—may be found to result in praise and glory and honor at the revelation of Jesus Christ.
Mark 9:23
And Jesus said to him, "'If you can'! All things are possible for one who believes."
Romans 8:28
And we know that for those who love God all things work together for good, for those who are called according to his purpose.
Scriptures for Encouragement and Strength in Tough Times
Because God's word is always alive, it encourages us and renews us at all times.
 It is then necessary to nourish our spirit either in moments of joy or in times of discouragement, anguish, sadness, and despair so that our joy can be full.
In the Bible, we find a variety of passages with men who stood firm in trusting God.
Even in some of the most difficult moments of their lives, they trusted God to be faithful and to fulfill His promises.
Behold, I am Jehovah, God of all creation. There is nothing impossible for me, Jeremiah 32:27.
God was faithful to them, responding in every situation that befell them. 
These passages serve as an example of how faith works and a reminder that we should always trust the living God.
I invite you to read more about those men of God found in the Bible. And as you read from Genesis to Revelation, you will find men like Abraham, Job, Moses, King David, Peter, Paul, and many others who all trusted God with their life.
But the greatest example of them all and the brightest demonstration of obedience, faith, and perseverance is our Lord Jesus Christ.
We must not turn our focus away from Him. Jesus is the author and finisher of our faith!
Through Jesus Christ, we have victory and let us remember at all times that through His death, burial, and resurrection – victory is guaranteed. 
There is no scenario that Christ cannot conquer; in fact, He has already done so! And no one can take that triumph away from us, which is the greatest source of comfort for every believer, but particularly for men who are supposed to lead their families and bear enormous loads.
Proverbs 18:10 
The name of the Lord is a strong tower; the righteous run into it and are safe.
Nehemiah 8:10 
Do not grieve, for the joy of the Lord is your strength.
Isaiah 41:10 
So do not fear, for I am with you; do not be dismayed, for I am your God. I will strengthen you and help you; I will uphold you with my righteous right hand.
Exodus 15:2 
The Lord is my strength and my song; he has given me victory. This is my God, and I will praise him— my father's God, and I will exalt him!
Psalm 9:9-10
 The Lord is a refuge for the oppressed, a stronghold in times of trouble.
Psalm 34:10
 Those who seek the Lord lack no good thing.
Isaiah 26: 3-4 
Those of steadfast mind you keep in peace—because they trust in you. Trust in the Lord forever, for in the Lord God you have an everlasting rock.
1 Chronicles 16:11 
 Seek the LORD and his strength; seek his presence continually!
Psalm 32:7-8 
You are my hiding place; you will protect me from trouble and surround me with songs of deliverance.
Exodus 33:14 
My presence will go with you, and I will give you rest.
Deuteronomy 31:8 
It is the Lord who goes before you. He will be with you; he will not fail you or forsake you. Do not fear or be dismayed.
Deuteronomy 33:27 
The eternal God is your refuge, and underneath are the everlasting arms.
Psalm 34:17 
When the righteous cry for help, the Lord hears, and rescues them from all their troubles.
Isaiah 30:15 
In repentance and rest is your salvation, in quietness and trust is your strength.
Encouraging Psalms in Hard Times
The Psalms is a fascinating book in the Bible that contains sweet praises to God in all of his manifestations, Father, Son, and Holy Spirit.
The psalms inspire us to rejoice even in adversity; they assist us to remain hopeful, peaceful, and faithful in the face of adversity.
No matter how difficult life appears to be or has gotten, the following verses from Psalms will be of great inspiration, upliftment, and help to you during your trial:
Psalm 37:5
 Commit your way to the LORD; trust in him, and he will act.
Psalm 55:22
Cast your burden on the LORD, and he will sustain you; he will never permit the righteous to be moved.
Psalm 46:1-3
 God is our refuge and strength, a very present help in trouble. 
2 Therefore we will not fear though the earth gives way, though the mountains be moved into the heart of the sea, 
3 though its waters roar and foam, though the mountains tremble at its swelling. Selah
 Psalm 18:2
The LORD is my rock and my fortress and my deliverer, my God, my rock, in whom I take refuge, my shield, and the horn of my salvation, my stronghold.
There are many more encouraging scriptures for men in the Bible. 
I recommend you also to read our collection of encouraging bible verses for men celebrating birthdays, encouragement for men in prison, and encouragement for men with cancer.