Finding out that you or your father, brother, uncle, son, or a male relative has cancer can be overwhelming and discomforting. 
We don't always know and may never know why God would allow such a thing to happen. 
But what we do know is that God's purpose in such a devastating affliction is not death, but of good health, strength, peace, and long life. 
You can take God at His word, and His word says in Acts 10:38, "How God anointed Jesus of Nazareth with the Holy Spirit and with power. He went about doing good and healing all who were oppressed by the devil, for God was with him." 
The Bible calls sickness, disease, and any other tool the devil uses to oppress men satanic oppression.  
Caner is of the devil, and the Bible calls it satanic oppression. 
Do not allow others to get you to think that cancer is only a medical condition. Sure it may be a medical issue, but it did not come from God; it came from the devil. 
Cancer is an enemy, and until you see it as an enemy who came to kill, steal and destroy you.
 You or whoever is battling cancer may lose the battle eventually. 
But I confess and declare life and good health over you. 
You will not die, but live to declare the good works of the Lord your God. 
 Moreover, you can trust that God has a plan for you, and these encouraging scriptures for men with cancer are just what you need to build your faith and trust God for healing and strength in this challenging time.
It is a great idea to give biblical encouragement to men battling cancer.
But it can be hard to find the right verses.
I have compiled some of the best bible verses that you can use yourself or share with men with cancer. 
Moreover, if you are in a rush and; you only want to find an encouraging scripture for men with can. 
Some of the most encouraging scriptures for men with cancer include Psalm 107:20, Isaiah 40:31, Romans 8:37-29, and many more that can encourage cancer patience to trust in God for deliverance, healing, and strength.
All verses below are from the English Standard Version Bible.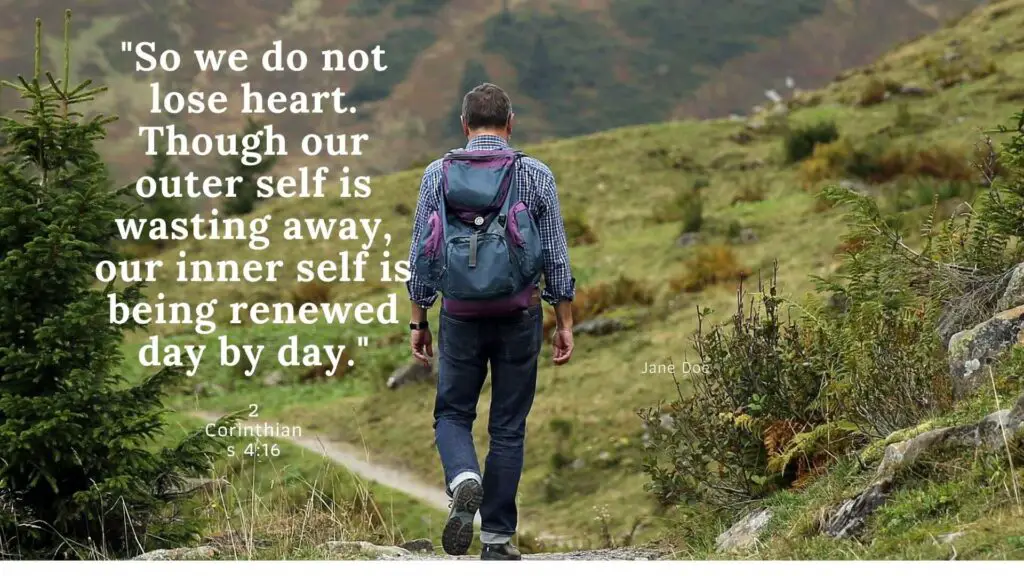 1.2 Corinthians 4:16
"So we do not lose heart. Though our outer self is wasting away, our inner self is being renewed day by day."
God is Working on Your Inner Man
Don't lose heart, Romans 8:28 says, "And we know that for those who love God all things work together for good, for those who are called according to his purpose."
While you may be in fear, and possibly in pain right now, God is working on your inner man.  
He says, "your inner self is being renewed day by day."  
Don't lose heart, you are coming out from this stronger than you came in.
2.Psalm 107:20
"He sent out his word and healed them; he rescued them from the grave."
Healing is Your Portion
The doctors may have given you a bad report, but whose report shall you believe?
Here is God's report, " But he was wounded for our transgressions; he was crushed for our iniquities; upon him was the chastisement that brought us peace, and with his stripes, we are healed (Isaiah 53:5).
And…
"He himself bore our sins in his body on the tree, that we might die to sin and live to righteousness. By his wounds you have been healed (1 Peter 2:24).
Wait… there is one more
"Saying, "If you will diligently listen to the voice of the LORD your God, and do that which is right in his eyes, and give ear to his commandments and keep all His statutes, I will put none of the diseases on you that I put on the Egyptians, for I am the LORD, your healer" (Exodus 15:26).
Now, whose report are you going to believe? Choose God's report, you will not regret it when you do. 
3.Isaiah 40:31
"But those who hope in the LORD will renew their strength. They will soar on wings like eagles; they will run and not grow weary, they will walk and not be faint."
Strength to Endure Until Full Recovery
Having cancer can be hard on the body, but God has promised you the strength to endure until healing manifest in your physical body, whether today, a week, or two months from now, you have the grace to endure.
4.Deuteronomy 31:6
"Be strong and courageous. Do not fear or be in dread of them, for it is the LORD your God who goes with you. He will not leave you or forsake you."
Do Not Fear
2 Timothy 1-7 says, "for God gave us a spirit not of fear but of power and love and self-control."
Also…
"There is no fear in love, but perfect love casts out fear. For fear has to do with punishment, and whoever fears has not been perfected in love" (1 John 4:18).
Fear is not of God, it is a tool the devil uses to control and crush men into submission.
5.Matthew 11:28-29
Come to me, all who labor and are heavy laden, and I will give you rest.
Bring You Burdens to Jesus
The Lord is calling you to come to Him with all of your cares, burdens, and worries. Do not hesitate, just go and lay all of your concerns before Him. 
6.Psalm 18:6
In my distress I called upon the LORD; to my God, I cried for help. From his temple, he heard my voice, and my cry to him reached his ears.
Pray
1 Thessalonians 5:17 says, "pray without ceasing."
And Luke 18:1 says, "And he spake a parable unto them to this end, that men ought always to pray, and not to faint (KJV).
David said that he called to God in his distress and God answered him.
Until you ask, it will not be given, until you knock, doors will not be open, and until you seek, you will not find.
I say all of that to say that you need to set aside time to pray and seek God's peace, healing, guidance, and instructions for your life right now.
7.Jeremiah 29:11
For I know the plans I have for you, declares the LORD, plans for welfare and not for evil, to give you a future and a hope.
Don't allow the devil to speak into your mind and tell you that God has abandoned you. That is a lie from the pit of hell.
John 14:18 says, "I will not leave you comfortless: I will come to you" (KJV).
God has not given up on you, He still has a plan for your life and that plan is to prosper you.
8.John 14:1-4
"Let not your hearts be troubled. Believe in God; believe also in me."
Fasten your seatbelt and wait on God. it may be a long hard journey, but do not be troubled. If you believe God Jesus is before God making intercessions for you.
9.Romans 8:37-39 
"No, in all these things we are more than conquerors through him who loved us. 
38 For I am sure that neither death nor life, nor angels nor rulers, nor things present nor things to come, nor powers, 
39 nor height nor depth, nor anything else in all creation, will be able to separate us from the love of God in Christ Jesus our Lord."
You are Stronger than You Think
The enemy may want you to believe that you are unfit and unworthy to make requests to God. 
But here is a reality check…
You already have the victory, and Romans 8:37 rightly puts it "…  in all these things we are more than conquerors…"
It means that Christ won the victory and gave it to you; making you more than conquerors. 
Whenever the devil comes around with his lies trying to make you feel insignificant; remind him of this verse.
10.Hebrews 4:16
"Let us then with confidence draw near to the throne of grace, that we may receive mercy and find grace to help in time of need."
All That You Will is in God
Whatever you need, peace, joy, deliverance, understanding, clarity, or in this case healing; God has it, and this verse tells us to go before God to get what we need.
11.1 Peter 5:7
casting all your anxieties on him, because he cares for you.
12.2 Corinthians 4:8-10
 We are afflicted in every way, but not crushed; perplexed, but not driven to despair; 
9 persecuted, but not forsaken; struck down, but not destroyed; 
10 always carrying in the body the death of Jesus, so that the life of Jesus may also be manifested in our bodies.
Knocked Down but Not Knocked Out
Sure, you are afflicted, perplexed, persecuted, and in pain, but you are still here trusting in God for deliverance. 
Our God will come through for you. Keep pressing on.
13.Ephesians 6:10
"Finally, be strong in the Lord and in the strength of his might."
Be Strong in the Lord
Satan is patiently waiting to exploit any weakness you may have but the good news is that God is your strength and satan will have to pass through God before He can get to you.
Read, meditate, sing praises to God, and give thanks to God as you build yourself in the holiest faith.
14.Psalm 120:1
"In my distress, I called to the LORD, and he answered me."
God Will Always Answer a Sincere Cry for Help
You do not need to go through this alone; call on God and He will answer you.
15.Psalm 55:22 
"Cast your burden on the LORD, and he will sustain you; he will never permit the righteous to be moved."
Who is your burnden bearrer? It should not be you. Christ wants to be your burden bearer, take it to Him in prayer.
16.Nahum 1:7
"The LORD is good, a stronghold in the day of trouble; he knows those who take refuge in him."
Trust God
The Lord knows all those you trust in Him. It is such a great blessing to trust God, you can not go wrong.
17.Psalm 9:9
"The LORD is a stronghold for the oppressed, a stronghold in times of trouble."
God Will Continue to Uphold You
You will not fall, God is your stronghold and He will hold you close under His wings as a hen would to your chicks.
Final Word of Encouragement and Hope
Thanks for reading my favorite encouraging scriptures for men with cancer. I hope you found them to be encouraging and uplifting, as well. 
Use these inspirational words whenever you feel like the devil and negative thoughts are getting the better of you. you need a boost.
You may want to also bookmark this page and jot bible verses down to read them aloud later on. 
I also encourage you to share scriptures with a friend or family member who is battling cancer or anyone facing similar health issues.