A wife, a good wife, is a priceless gift from God. 
Proverbs 31:10 says that her price is far above rubies. 
It continues in verse 11 to say that her husband trusts her and that he will have no lack of gain.
In verse twelve, the good wife does good deeds for her husband; she is a diligent worker, she is resourceful, loving, caring, willing, God-fearing, merciful, and cherishes her family.
A wife is a wonder and a gift that all men and the world will be grateful for forever. 
Thank you for making our lives fill with joy if you are a wife and reading this article of encouraging scriptures for wives. 
God has sent me with a word for you, and I pray that you will stay right to the end so that you will not miss the word God has sent me with to you.
Perhaps your life is not going the way you planned, maybe you are at a breaking point in your marriage, or things have gotten from bad to worst in your family.
Through it all, you are trying to stay focused, remain calm, do what is right, hold on to hope, and be there for your marriage and family so that they will not fall apart.
But how much can you bear, you are only one person, and there is only so much you can take. 
You need help, a word from God, and the joy that comes in the morning, Psalm 30:5. 
 Psalm 30:5 says, "For his anger endureth but a moment; in his favor is life: weeping may endure for a night, but joy cometh in the morning."
How much longer will the painful nights last? 
How much longer can you go on crying? 
Only God knows your pain, tears, emotions, and what you are going through right now.
I would be lying if I tell you that I know the pain you feel, but my heart aches for you, and I assure you that there is hope in God.
Here is what God says about you:
Jeremiah 29:11 says,  "for I know the plans I have for you," declares the LORD, "plans to prosper you and not to harm you, plans to give you hope and a future."
You see, God loves you; He has a plan for your life, for your kids, for your marriage, and for your family. 
God will not harm you, He will not allow the devil to destroy you, and He has your best interest at heart.
Your heavenly Father is with you as you go through whatever you are going through. 
You can trust Him and with God on your side. There is a bright future to look forward to, comfort, strength, and peace.
Moreover, if you are a husband asking, "what is a good bible verse to encourage my wife?"
Some of the most encouraging scriptures for wives include Jerimiah 29:11, Proverbs 31:10-31, John 14:1, Psalm 55:22, Matthew 11:28-30, and many more uplifting bible verses to encourage your wife biblically.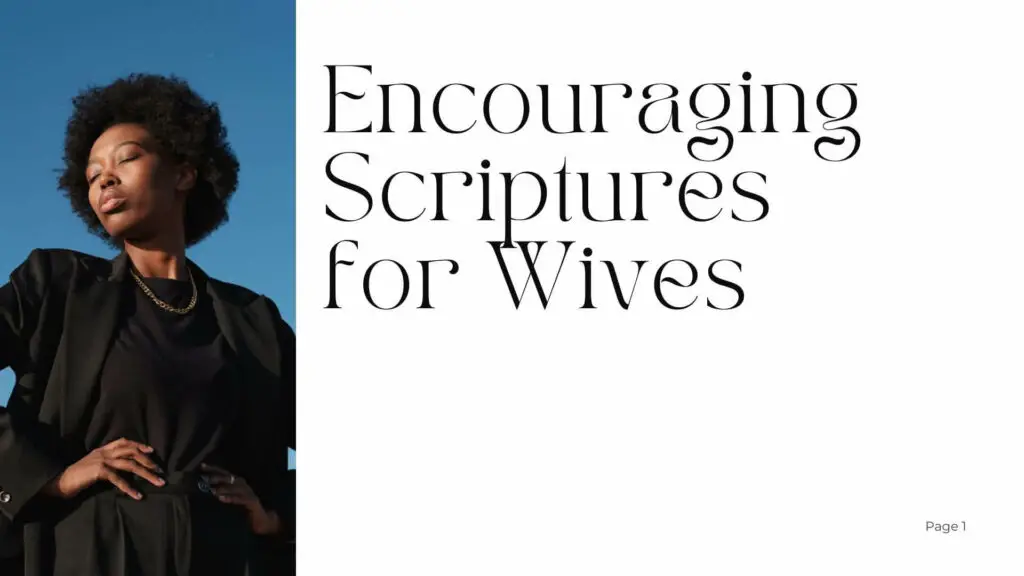 Encouraging Scriptures for Wives
Set back, relax, and allow these biblical, uplifting messages for women to bless your Spirit, soul, and body. 
These scriptures are powerful spiritual encouragement for women who are going through a lot and need a word from God. 
Jerimiah 29:11
 "For I know the thoughts that I think toward you, saith the Lord, thoughts of peace, and not of evil, to give you an expected end."
The Lord is your hope and future; your end is glorious; and filled with peace, blessings, and joy in Him.
Proverbs 31:10-31
"Who can find a virtuous woman? for her price is far above rubies.
11 The heart of her husband doth safely trust in her so that he shall have no need of spoil.
12 She will do him good and not evil all the days of her life.
13 She seeketh wool, and flax, and worketh willingly with her hands.
14 She is like the merchants' ships; she bringeth her food from afar.
15 She riseth also while it is yet night, and giveth meat to her household, and a portion to her maidens.
16 She considereth a field, and buyeth it: with the fruit of her hands, she planteth a vineyard.
17 She girdeth her loins with strength, and strengtheneth her arms.
18 She perceiveth that her merchandise is good: her candle goeth not out by night.
19 She layeth her hands to the spindle, and her hands hold the distaff.
20 She stretcheth out her hand to the poor; yea, she reacheth forth her hands to the needy.
21 She is not afraid of the snow for her household: for all her household are clothed with scarlet.
22 She maketh herself coverings of tapestry; her clothing is silk and purple.
23 Her husband is known in the gates when he sitteth among the elders of the land.
24 She maketh fine linen, and selleth it; and delivereth girdles unto the merchant.
25 Strength and honor are her clothing, and she shall rejoice in time to come.
26 She openeth her mouth with wisdom, and in her tongue is the law of kindness.
27 She looketh well to the ways of her household, and eateth not the bread of idleness.
28 Her children arise up, and call her blessed; her husband also, and he praiseth her.
29 Many daughters have done virtuously, but thou excellest them all.
30 Favour is deceitful, and beauty is vain: but a woman that feareth the Lord, she shall be praised.
31 Give her of the fruit of her hands and let her own works praise her in the gates.
You are a woman of God, you are a woman of value, and you are a woman that any man who calls you his wife is blessed to have. 
Never allow anyone or anything to make you feel you are less than what your Father says you are; a virtuous woman.
John 14:1
"Let not your heart be troubled: ye believe in God, believe also in me."
Take heart from reading these words from your Father; He has your back; do not be troubled, do not be afraid, and wait on your Father.
Psalm 55:22
"Cast thy burden upon the Lord, and he shall sustain thee: he shall never suffer the righteous to be moved."
Do you know that the Lord cares for you? 
Yes, our God cares for you, and He will move heaven and earth to help you; He will melt mountains, dry up seas, and give up nations for your life. 
Matthew 11:28-30
"Come unto me, all ye that labor and are heavy laden, and I will give you rest.
29 Take my yoke upon you, and learn of me; for I am meek and lowly in heart: and ye shall find rest unto your souls.
30 For my yoke is easy, and my burden is light."
How much longer will you carry your heavy burden? 
I encourage you to take your burden to the Lord today. 
Philippians 4:13
"I can do all things through Christ which strengtheneth me."
 The Lord will empower you to do all things when you cast your cares and take your burdens to Him. 
Sure, men might say you can not do this or that, but with God in your vessel, you can do all things. 
Philippians 4:6-7
"Do not be anxious about anything, but in everything by prayer and supplication with thanksgiving let your requests be made known to God. 
7 And the peace of God, which surpasses all understanding, will guard your hearts and your minds in Christ Jesus."
You have assurance in Christ when you are not anxious, and this assurance is peace in your heart and mind. 
Why worry when you can pray? 
Trust in Jesus; He will lead the way. 
Do not be doubting Thomas, but put your faith and trust in Jesus. 
Galatians 5:22-25
"But the fruit of the Spirit is love, joy, peace, patience, kindness, goodness, faithfulness, 
23 gentleness, self-control; against such things there is no law. 
24 And those who belong to Christ Jesus have crucified the flesh with its passions and desires.
25 If we live by the Spirit, let us also keep in step with the Spirit."
Do not allow negativity and your current situations, no matter how bad they may seem to rob you of the fruit of the spirit.
 Moreover, do not become bitter, but thrive to become a better wife, mother, sister, and daughter for the glory of God.
Isaiah 40:29-30
"He gives power to the faint, and to him who has no might he increases strength.
"30 Even youths shall faint and be weary, and young men shall fall exhausted."
Make up your mind at this very hour that you will wait on God. 
Trust me; you will not regret it. 
In the end, you will soar like an eagle, high in the sky, into the very presence of God, where there is an abundance of everything good.
Thessalonians 2:16-17
" Now our Lord Jesus Christ himself, and God, even our Father, which hath loved us, and hath given us everlasting consolation and good hope through grace,
17 Comfort your hearts, and establish you in every good word and work."
The host of heaven has your back, not only Jesus our Lord and Savior but God our Father. You are fully covered. Rejoice now and praise Good. Hallelujah!!
Psalm 73:26
"My flesh and my heart faileth: but God is the strength of my heart and my portion forever."
Do not look at your outward circumstances, only look at the Lord. 
And if you are looking at your discouraging conditions; then remember to look at the Lord because He is the strength of your life. Not your flesh and heart, but God is the strength of your life.
Psalm 27:1
"The Lord is my light and my salvation; whom shall I fear? the Lord is the strength of my life; of whom shall I be afraid?"
The strength of your life is God; do not be afraid.
Psalm 46:10
"Be still, and know that I am God: I will be exalted among the heathen, I will be exalted in the earth."
Set back, relax, and let God do His thing and have His way.
Psalm 18:31:32
"For who is God, but the Lord? And who is a rock, except our God? the God who equipped me with strength and made my way blameless."
You Father is the everlasting God, the Most-High, the one that was, is, and is to come, the Almighty. There is none besides your Father, there will never be, and He, your Father has the final say in your life.
1 Peter 3:1-2
"Likewise, wives, be subject to your own husbands, so that even if some do not obey the word, they may be won without a word by the conduct of their wives."
As much as you may not agree with your husband, and he may be the one causing you pain, hardship, and grief; your heavenly Father says that you must still respect and submit to him. 
Your obedience to God's Word is key in this matter because when you obey God and respect your husband. God will visit your husband and speak to his heart. 
And it is my prayer that your husband would accept God's salvation and surrender to Christ and begin to love, cherish, and respect you his wife.
Colossians 3:1-2
"If then you have been raised with Christ, seek the things that are above, where Christ is, seated at the right hand of God."
Do not allow negativity or anything evil to occupy your mind, instead set your mind on Christ; think about lovely, good, honorable, and praiseworthy things.
Luke 18:1
"And he told them a parable to the effect that they ought always to pray and not lose heart."
Pray always because herein lies your victory. I cannot emphasize more the importance of prayer. Prayer is that key that opens many doors in the kingdom of God. 
The day you refuse to pray is the day the devil will fortify his hold on your life. Pray!
1 Thessalonians 5:18
"Give thanks in all circumstances; for this is the will of God in Christ Jesus for you."
Never forget to be grateful to God for all that He has done, and even if you are not seeing the things God has done; still give Him thanks. Because this is God's will for your life.
Psalm 37:25
"I have been young, and now am old, yet I have not seen the righteous forsaken or his children begging for bread."
God will never forsake you, and neither will He sit on His throne and see you go under. 
Romans 8:31
"What then shall we say to these things? If God is for us, who can be against us?"
There is no better way to end than with this list of encouraging scriptures for wives than with this scripture.  
The question is asked "What then shall we say to these things? If God is for us, who can be against us?"
And the answer is " no one or nothing will prevail over us, over you. 
Final Thoughts 
With God on your side, you will ride out your storms. 
You are a woman of God, and you will succeed, you will laugh again, you will sing again, you will dance again, you will live, and you will push past every snare, obstacle, and everything life and the devil will throw at you. 
You are blessed, highly favored, and planted by God; you will not fail, your Father is with you, and He only sent me to remind you.
Please share these encouraging bible verses with others if they have been a blessing to your life. 
Thank you for reading, and feel free to check out our other encouraging collection of bible verses.