Men go through a lot, especially husbands who are faithful to their wives and family. 
Only God knows what some men go through daily to provide for their families. 
The pain, sorrow, grief, frustration, anguish, and burdens that some husbands endure to keep their family together and to make sure that "little Mary and Johnny" are happy is something husbands should be proud about.
That said, all men need encouragement, and whether you are a wife who needs a word of encouragement for your husband.
 Or, you are a husband looking for inspiration from God's Word; this post is ideal for you.
What is a good Bible verse for husbands."
Some of the most encouraging scriptures for husbands include John 3:16-17, Romans 10:9-10, Isaiah 41:10, and many more that can inspire hope, peace, strength, patience, and courage to keep going and become the Man of God that God expects.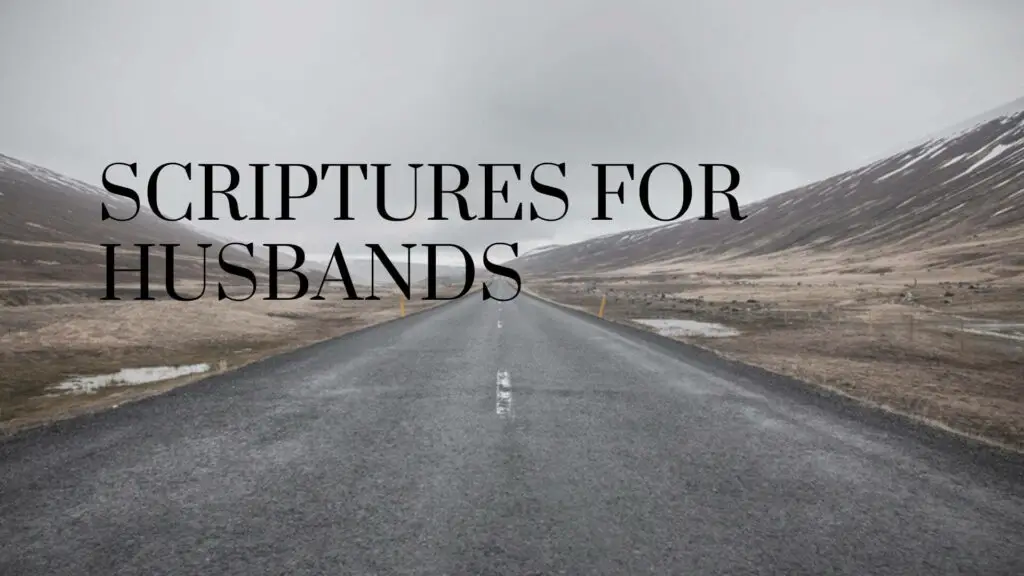 Encouraging Scriptures for Husbands
Here are a few helpful, inspirational, and timely bible verses to encourage your husbands.
Matthew 11:28
"Come to me, all who labor and are heavy laden, and I will give you rest."
In Matthew 11:28-31, Jesus advises us that when our bodies, minds, or spirits become fatigued, we should come to him for rest and renewal.
Psalm 23:4
 "Even though I walk through the valley of the shadow of death, I will fear no evil, for you are with me; your rod and your staff, they comfort me."
When we call out to God, he consoles us and helps us through the darkness, giving us the strength to persevere.
John 14:27
"Peace I leave with you; my peace I give to you. Not as the world gives do I give to you. Let not your hearts be troubled, neither let them be afraid."
When the peace of God is in our hearts, we are empowered to face any personal, professional, and family issues that life may throw at us.
Mark 6:49-50
"But when they saw him walking on the sea they thought it was a ghost, and cried out, for they all saw him and were terrified. But immediately he spoke to them and said, "Take heart; it is I. Do not be afraid."
Jesus encouraged His disciples to take heart and not to be afraid even in uncertain times. Likewise, as a husband, when you feel unsure as to what to do next; the Lord is saying to you hold your ground and take heart.
Isaiah 43:2-3
"When you pass through the waters, I will be with you; and through the rivers, they shall not overwhelm you; when you walk through fire you shall not be burned, and the flame shall not consume you. 
For I am the LORD your God, the Holy One of Israel, your Savior. I give Egypt as your ransom, Cush and Seba in exchange for you."
Men encounter situations in their daily lives that call for greater courage. But we can take heart that Our God is with us at all times.
Psalm 18:29
"For by you I can run against a troop, and by my God, I can leap over a wall."
We understand that our journey may be filled with obstacles but our God empowers us to overpower a troop and leap over walls.
Isaiah 50:7
"But the Lord GOD helps me; therefore I have not been disgraced; therefore I have set my face like a flint, and I know that I shall not be put to shame."
Joseph, Job, and Moses are all courageous individuals who share their stories in the sacred texts about their trials and tribulations. They never gave up on the Lord.
Deuteronomy 7:21
" You shall not be in dread of them, for the LORD your God is in your midst, a great and awesome God."
You have to be confident that God is with you at all times. So don't be terrified when you have to make difficult decisions or deal with situations that appear unattainable.
Psalm 28:7
"The LORD is my strength and my shield; in him my heart trusts, and I am helped; my heart exults, and with my song, I give thanks to him."
Keep in mind that as you pray, you should also express your gratitude to the Lord for His unending care toward you and your family. God's honor must be upheld.
Isaiah 40:30-31
"Even youths shall faint and be weary, and young men shall fall exhausted; 
But they who wait for the LORD shall renew their strength; they shall mount up with wings like eagles; they shall run and not be weary; they shall walk and not faint."
Faith provides us with the strength and patience to wait on God so that He will be glorified in the end.
Psalm 42:5
"Why are you cast down, O my soul, and why are you in turmoil within me? Hope in God; for I shall again praise him, my salvation."
When we read the gospels, we read that God our Father is the source of our salvation and that He has our best interest at heart. Praise God!
1 Corinthians 10:13
"No temptation has overtaken you that is not common to man. God is faithful, and he will not let you be tempted beyond your ability, but with the temptation, he will also provide the way of escape, that you may be able to endure it."
Godless women and other dangerous temptations would try to destroy you. But strong men endure and uphold the word of God. 
Furthermore, God will protect and keep you safe while we endure temptations. 
Psalm 18:30-32
"This God–his way is perfect; the word of the LORD proves true; he is a shield for all those who take refuge in him. 
For who is God, but the LORD? And who is a rock, except our God?
The God who equipped me with strength and made my way blameless."
God's word is a source of strength, serving as a protective shield for all of his children.
2 Corinthians 12:9-10
"But he said to me, "My grace is sufficient for you, for my power is made perfect in weakness." Therefore I will boast all the more gladly of my weaknesses, so that the power of Christ may rest upon me. 
For the sake of Christ, then, I am content with weaknesses, insults, hardships, persecutions, and calamities. For when I am weak, then I am strong."
God loves and cares for every one of His children, and He lavishes them with all of His blessings and grace. The Lord is in our hearts and He will see you through life's tough moments.
Psalm 46:7
"The LORD of hosts is with us; the God of Jacob is our fortress. Selah"
When we entrust all of our ways to God, he is the one who opens all doors and brings our desires to pass.
2 Chronicles 25:8
"But go, act, be strong for the battle. Why should you suppose that God will cast you down before the enemy? For God has power to help or to cast down."
Do and give your best to your family as unto God. When you do your best, God will reward you richly.
Galatians 2:20
"I have been crucified with Christ. It is no longer I who live, but Christ who lives in me. And the life I now live in the flesh I live by faith in the Son of God, who loved me and gave himself for me."
Through the death, burial, and resurrection of Christ, we all have victory.
Psalm 21:1-2
"O LORD, in your strength the king rejoices, and in your salvation how greatly he exults! 
You have given him his heart's desire and have not withheld the request of his lips. Selah"
The strength of our Lord over our lives causes up to rejoice and to live a life of peace, love, favor, and victory. 
Joshua 1:9
"Have I not commanded you? Be strong and courageous. Do not be frightened, and do not be dismayed, for the LORD your God is with you wherever you go."
Because God is our mentor and leader, we can be at peace knowing that He is with us.
Final Thoughts 
Thanks for reading, we have come to the end of our collection of encouraging scriptures for husbands. I hope you found them to be both helpful and relevant, as well. 
Use these encouraging words to minister to your husband. And if you are a husband and reading this; these motivational and inspirational quotes from the Bible can help to guide you through this uncertain and dark moment of life. 
Spread the word and share your favorite quotes from this list on Facebook and Instagram with your friends and followers.