"Children are indeed a heritage from the Lord," Psalm 127:3. 
The Lord has blessed us with children, and we must be grateful for His blessings.
We must also give Him thanks, love, cherish, and care for our kids.
However, the Lord also expects us to teach our children to know Him so that they may glorify Him from their youth and acknowledge Him in all of their ways. 
But this is easier said than done because there are so many voices, noises, and distractions around them. 
As parents, we need as much godly help, counsel, and advice as we can find in the scriptures to help us admonish our kids in the way of the Lord so that when they become older, they will not depart from the good path.
I am a father of two beautiful girls myself, and today I will share with you a few encouraging scriptures for kids that I keep close to my heart.
But suppose you are in a hurry, and you want to know, "What is a good bible verse for kids?"
Some of the most encouraging scriptures for kids are Genesis 1:1, John 3:16, Luke 2:52, Jeremiah 29:11, and many more good bible verses to encourage your kids biblically.
Let us now turn to the Bible to see what it says about children and how we as parents can help them to better understand God's Word and purpose for their lives.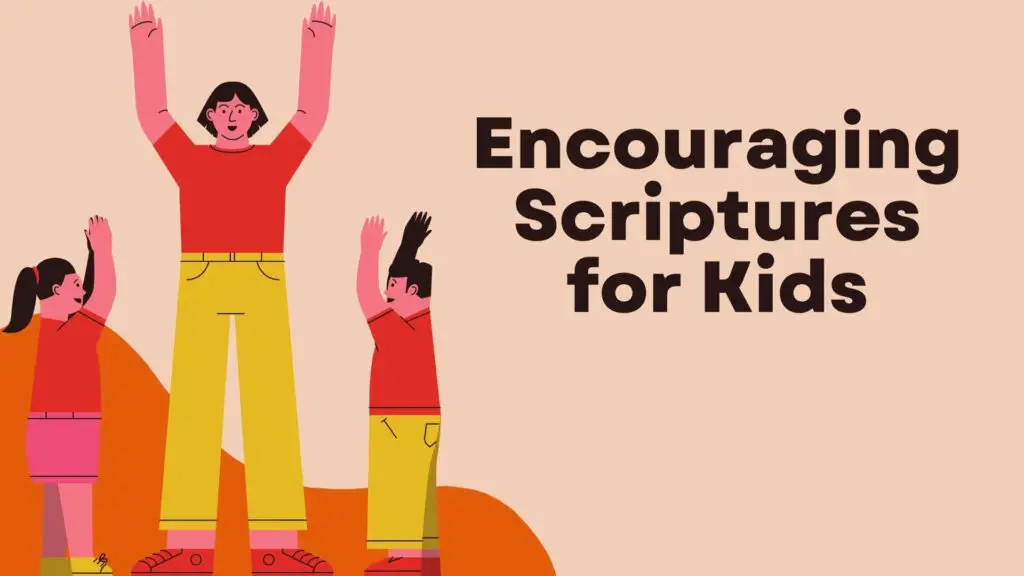 Encouraging Bible Verses for Kids
"Behold, children are a heritage from the LORD, the fruit of the womb a reward." Psalm 127:3. Our kids are a blessing from God and as adults, we have a God-given responsibility to care, encourage, nurture, and admonish them in the way of the Lord. Introducing them to scriptures is the ideal way of committing them to the Lord.
1. Matthew 19:14
"But Jesus said, "Let the little children come to me and do not hinder them, for to such belongs the kingdom of heaven."
We will begin with Matthew 19:14. In this verse, we see that God wants children to come to Him. 
Too often, we hinder our children from God's blessings by thinking they are too young to teach them the ways of God.
But Jesus in this verse says no. He said to allow them to come to him. 
As a parent, you have a responsibility to be that preacher and teacher to them.
Let them know that God wants them, let them know that God is calling them, and let them know that they are not too young to work for God. 
Do not pressure them, but with love, care, and gentleness, point them to Christ.
As a parent, you may even need some encouragement yourself, and I have got you covered with our collection of encouraging scriptures for women and uplifting bible verses for men.
2.1 Timothy 4:12
"Don't let anyone look down on you because you are young, but set an example for the believers in speech, in conduct, in love, in faith, and in purity."
Encourage your children to stand up for what is right, and remind them that even when their friends and others may laugh and mock them for doing the right thing, they must continue to do what is right.
3. Jeremiah 29:11
"For I know the plans I have for you, declares the LORD, plans to prosper you and not to harm you, plans to give you hope and a future."
Tell your kids that God has a plan for their lives, remind them, and daily, sit down with them and show them in scriptures how God helped children like Samuel, Josiah, Jesus, Samson, and many others become strong, respectable, successful, and Godly leaders.
Tell them that they will find success in God and that whatever good thing they need; they will find it in God.
4. John 3:16
For God so loved the world that he gave his one and only Son, that whoever believes in him shall not perish but have eternal life.
Teach your kids about the love of God and how God sent Jesus Christ, his son, to die on the cross for their sins and the sins of the world.
5. Joshua 1:9
"Have I not commanded you? Be strong and courageous. Do not be frightened, and do not be dismayed, for the Lord your God is with you wherever you go."
Teach your kids about courage. Point out to them what courage is, the importance of courage, and why they should strive to become courageous like Joshua.
6. Luke 6:31
"Do to others as you would have them do to you."
Teach your children the golden rule early. Remind them that whatever they sow; the same they will reap in great measure. Galatians 6:7 "Do not be deceived: God is not mocked, for whatever one sows, that will he also reap.
7. Matthew 21:22
"If you believe, you will receive whatever you ask for in prayer."
Teach your kids the power of prayer and how they should always set aside time to pray and talk to God their heavenly Father.
8. Colossians 3:20
"Children, obey your parents in everything, for this pleases the Lord."
Make it very clear to your kids that they are to at all times, and under all circumstances to obey you because you have their best interest at heart. It's non-optional, and it is what God requires from them.
9. Hebrews 11:1
"Now faith is confidence in what we hope for and assurance about what we do not see."
Teach your kids about faith, what faith is, and what it is not. Point out to them that God expects them to live by faith, and that whatever they will desire from God it has to be through faith.
10. Matthew 6:14
"For if you forgive other people when they sin against you, your heavenly Father will also forgive you."
Teach your sons and daughters about forgiveness, make it clear to them that they need to forgive others who sin against to so that God will forgive them when they sin against Him or do something wrong.
11. Luke 6:38
"Give, and it will be given to you. A good measure, pressed down, shaken together, and running over, will be poured into your lap. For with the measure you use, it will be measured to you."
Teach your kids about giving, and how it is more of a blessing to give than to receive.  
Acts 20:32 "In everything I did, I showed you that by this kind of hard work we must help the weak, remembering the words the Lord Jesus himself said: 'It is more blessed to give than to receive."
12. Exodus 20:12
"Honor your father and your mother, so that you may live a long time in the land the LORD your God is giving you."
Teach your kids about honor and how they must at all times honor their parents so that they may live long and find success in whatsoever they choose to do in this life.
13. Philippians 4:13
"I can do all this through him who gives me strength."
Every day, remind your kids that they are children of the Most High God and that through His strength and grace they can do anything they desire to do.
14. Proverbs 13:20
"Walk with the wise and become wise, for a companion of fools suffers harm."
Teach your kids about wisdom, and how they must choose their friends wisely.
15. Proverbs 15:5
"A fool spurns a parent's discipline, but whoever heeds correction shows prudence."
Teach your children about disciple and that it is good to be corrected when you are wrong.
16. Psalm 107:1
"Give thanks to the LORD, for he is good; his love endures forever."
Teach your kids about the importance of thanksgiving to God, and being grateful to Him.
17. Psalm 119:11
"I have hidden your word in my heart so that I might not sin against you."
Teach your sons and daughters the significance of remembering the Word of God.
18. Romans 6:23
"For the wages of sin is death, but the gift of God is eternal life in Christ Jesus our Lord."
Teach your children about sin and how Adam was thrown out of the garden of Eden because of his sin of disobedience to God.
Make it clear to them that death is a result of sin and they should flee from sinful practices.
19.1 Corinthians 16:13
"Be on your guard; stand firm in the faith; be courageous; be strong."
Encourage your kids to always be on the lookout to resist evil.
20. Proverbs 3:5-6
"Trust in the LORD with all your heart and lean not on your own understanding. In all your ways, submit to him, and he will make your paths straight."
Teach your kids about trust, and how God wants them to trust in Him with all their lives and in all they do.
21. Galatians 5:22-23
"But the fruit of the Spirit is love, joy, peace, forbearance, kindness, goodness, faithfulness, gentleness, and self-control. Against such things, there is no law."
Teach your children about the fruit of the spirit, what they are, and the purpose they serve in our walk with God.
22. Matthew 22:37-39
"Jesus replied: " 'Love the Lord your God with all your heart and with all your soul and with all your mind. This is the first and greatest commandment."
39 And the second is like it: 'Love your neighbor as yourself."
Again, encourage your children to love God, with all of their heart, soul, mind, spirit, might, and indeed with their lives. And not forgetting to love others as themselves.
23. Ephesians 4:29
 "Do not let any unwholesome talk come out of your mouths, but only what is helpful for building others up according to their needs, that it may benefit those who listen."
Teach your little ones to guard their mouths and be careful with the words they speak because they will have to give God an account for every word.
Matthew 12:36 says, "But I tell you that everyone will have to give account on the day of judgment for every empty word they have spoken."
24. Ephesians 4:32
"Be kind and compassionate to one another, forgiving each other, just as in Christ God forgave you."
Teach your children about compassion and how God expects them to show others mercy and kindness.
25. Deuteronomy 6:6-9
"And these words, which I command thee this day, shall be in thine heart:
And thou shalt teach them diligently unto thy children, and shalt talk of them when thou sittest in thine house, and when thou walkest by the way, and when thou liest down, and when thou risest up.
And thou shalt bind them for a sign upon thine hand, and they shall be as frontlets between thine eyes. And thou shalt write them upon the posts of thy house, and on thy gates."
There is no better way to conclude this list of encouraging scriptures for kids than by showing you that God expects you to teach your kids.
Final Thoughts
You have a God-given obligation to teach your children, sure, these scriptures will encourage them, but you as a parent must take the time out to teach your children the way of the Lord.
If these encouraging scriptures have been a blessing to you please share them with your friends and loved ones on your social media pages. 
Thank you for reading and I encourage you to check out our other powerful, uplifting, healing, and forgiveness scriptures from the bible.