I have recently been going through some difficult periods in my life. 
It is as though God has either forgotten about me or has stopped caring. Being a young pastor with a young family is challenging. 
Bills come thick and fast, and dealing with church issues is time-consuming and difficult. 
Things are getting to that point where it is becoming overwhelming, especially with a young family who wants my attention.
I have been doing my best to stay focused and keep my gaze fixed on God, but even that has been difficult. 
With each passing day, it appears that I am becoming weaker and weaker—nothing I try seems to help.
As a pastor and a believer, I've come to a crossroads. 
I have to decide, should I give up and accept whatever life throws at me, or should I look to God for help?
It may surprise you, but choosing the latter took a lot of encouragement from friends, prayers, and a touch from God. 
You might consider it weird that a pastor would need so much help to decide on the obvious, but it's not until you're in such a circumstance that you realize how vulnerable and powerless you can become.
But thanks be to God, the devil's effort to rob me of my faith and trust in God failed, and I was able to renew my mind and strength in God with the support of God, the scriptures, my family, and friends.
Difficult times are unavoidable. They will appear in some way, shape, or form. But you need to keep going, trust God, and do not allow hardship to keep you down. 
God has not forgotten about you; He genuinely cares for you. You may be going through a challenge now, but take heart, and these bible verses about strength and courage will bless your soul and comfort your heart.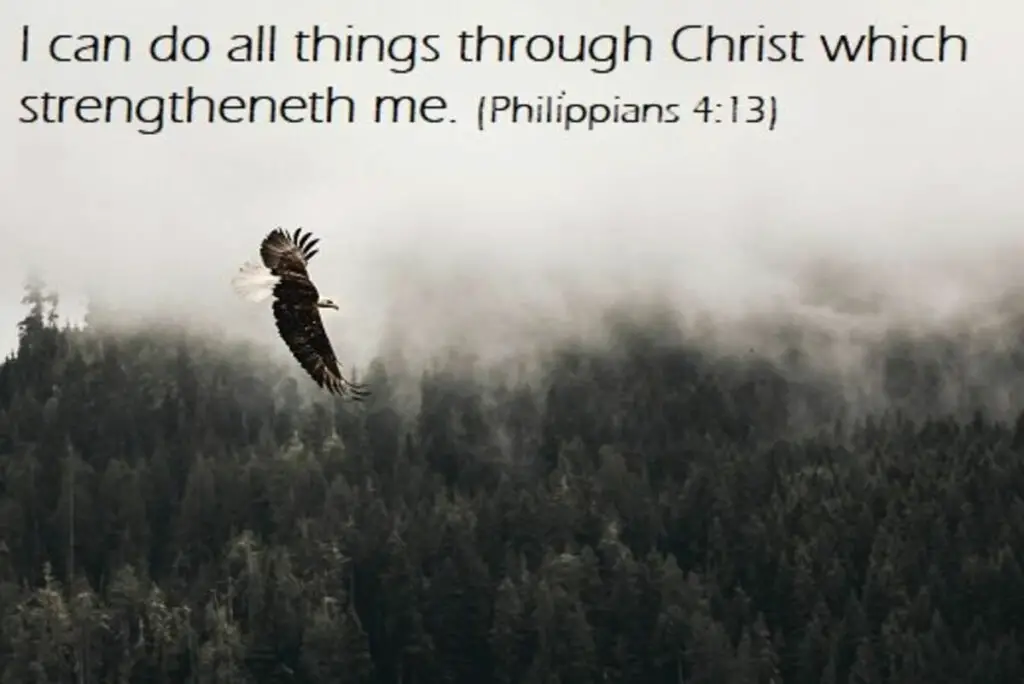 Bible Verses About Strength and Courage
The scriptures can help you too, it does not matter how bleak your circumstances may look right now, use these scriptures to increase and strengthen your faith in God.
Psalm 46:1
"God is our refuge and strength, a very present help in trouble."
It won't be easy to ride through your storms while waiting on God, but that is where this passage comes in handy. 
Like Shadrach, Meshach, and Abednego, the three Hebrew boys, who all refused to bow to the king's idol but trusted in God. We can do likewise in the face of adversity and wait on God's deliverance. 
Those three Hebrew boys confessed their faith in God and admitted that if God did not deliver them, they were willing to die.
They were willing to pay the ultimate price; their lives. But thanks be to God, who delivered and spared their lives. 
Psalm 46:1 says God is our refuge. And, just as He safeguarded those three Hebrews boys who were waiting on Him, He will do the same for you.
Psalm 9:9
"The Lord also will be a refuge for the oppressed, a refuge in times of trouble."
2 Corinthians 12:9-10 says, "My grace is sufficient for you, for my power is made perfect in weakness.'Therefore I will boast all the more gladly about my weaknesses, so that Christ's power may rest on me. That is why, for Christ's sake, I delight in weaknesses, in insults, in hardships, in persecutions, in difficulties. For when I am weak, then I am strong."
You are not a failure if you are exposed to flaws and difficulties. Rather, your flaws and setbacks are merely stepping stones on the path to greatness.
You must first go through those lonely valleys, endure that parched wilderness, and experience the harsh winter snow before coming out on the other side of victory.
The devil uses hardships to set us back, but God will allow them to propel us forward. 
The Lord is your refuge, and He will rescue you in times of trouble. Take strength, courage, heart, and wait on God.
You can learn from Paul and apply the same approach to your life.
Isaiah 40:29-31
"He giveth power to the faint, and they that have no might he increaseth strength. Even the youths shall faint and be weary, and the young men shall utterly fall: but they that wait upon the Lord shall renew their strength; they shall mount up with wings as eagles; they shall run, and not be weary; they shall walk, and not faint."
Where do we get our strength? The Lord is our source of strength; He is ready to provide strength and courage to those in need. 
However, this strength and courage do not come easily. Obtaining God's strength requires complete commitment and trust in God.
Are we willing to hand over your entire life to your 
Father? Are we willing to hand over everything to Him?
 If you can say yes to these questions; you are now ready to receive God's power.
Isaiah 40:31
"But they that wait upon the Lord shall renew their strength; they shall mount up with wings as eagles; they shall run and not be weary; they shall walk and not faint."
Patience is a powerful virtue all need to stand in faith, especially when we feel weak and forsaken. 
Those who wait for God, as this scripture says, will renew their strength and mount up with wings like eagles. 
Habakkuk 3:19
"The Lord God is my strength, and he will make my feet like hinds' feet, and he will make me walk upon mine high places."
Is there anyone or anything who is more powerful than God? No, the prophet asserts in this verse that God is the ruler of all—that He sits on the throne of power and control.
When life throws you a curveball, you need the grace of God and His strength to trust and wait on Him. 
God is your savior. God will not only empower you, but He will also bless you with stability and stamina so that you can achieve things others are frightened to attempt and conquer.
Psalm 23:4
"Yea, though I walk through the valley of the shadow of death, I will fear no evil: for thou art with me; thy rod and thy staff they comfort me."
Even when your path is uncertain, you can still put your faith in God. Uncertainty is one of, if not the most, annoying aspects of life. Not knowing what is around the corner or what next might happen is not a pleasant place to be, but this verse, however, is a source of courage and consolation that demonstrates that God is with us even in our most unsteady and unsure moments. 
We may not feel like God is with us at times, yet He is—even in our darkest moments.
You are not alone while you walk through this lonely and dark valley; God is with you and will comfort you every step of the way.
Psalm 73:26
"My flesh and my heart may fail, but God is the strength of my heart and my portion forever."
The key to getting through difficult circumstances in life is not trusting in flesh, whether yourself or men.
Trust in God, and when you do,  you become more than conquerors because of God's strength and grace; no trial is too difficult to bear, and no mountain is too steep to climb; you will triumph.
1 Corinthians 10:13
"No temptation has overtaken you except what is common to mankind. And God is faithful; he will not let you be tempted beyond what you can bear. But when you are tempted, he will also provide a way out so that you can endure it."
No matter how hard our trial may seem, there is always a way out, but we must know where to look, a clue—read and meditate on this bible verse for strength and courage.
Proverbs 18:10
"The name of the Lord is a strong tower; the righteous run into it and are safe."
Unlike in Psalm 46:1, we are not on the defensive covering from the attacks of satan in this verse, but rather on the offensive, confronting our fears and worries.
The name of the Lord is a strong tower that no devil can enter. God is faithful to His name, and His name is a stronghold for us.
Do not give up, do not let your challenging circumstances overwhelm you; instead, proclaim your faith in God and begin to announce the promises of His word over your life and everything you want to see manifest.
Do not hold back; this is your chance to shine and overcome whatever unfavorable circumstances have been working against you.