These are trying times. The world is in an uproar. There is pain, sickness, diseases, starvation, injustice, war, and perhaps you have found yourself in one of the hardest times in your life.
Together, all that is unfolding and your midnight dilemmas are even causing you to question God more than you are accustomed to.
Making you second-guess your religion, your faith, and whether God cares about you and all that is unfolding around you.  
Where is He, and does He, as the Bible claims, care about your well-being? 
If indeed He cares, why is He not assisting?
You are right
It is okay to ask God questions, many mighty saints did, and many faithful saints today ask God questions when they feel the way you are feeling right now.
Moreover, I understand that you are overwhelmed, upset, despairing, bewildered, and not knowing where to turn next. 
You need help, and you need that help now. 
You are not alone
I have been beaten, bruised, broken, and felt abandoned by God. 
I have wept myself to sleep many evenings and awoke the next day with a defeated spirit.
 There were times when I wished I had not woken up at all because I thought that would be better than to face my problems.
I was nervous, anxious, stressed out, and frustrated too.
But… God is faithful.
Guess what? I made it… I am still alive and to give God glory.
I have also found out that those difficulties I encountered were all part of God's plan for my life, so He allowed those situations to unfold the way they did.
Faith is not a walk in the park.
Faith requires total trust in God. Moreover, I may not have all of the answers to change your fortunes, but I do have some good news to cheer and restore your faith in God.
 Faith has not always been easy for me, but through perseverance, consistent prayer, frequent meditation on God's words, and patience, I have received some vital insights that will perhaps help you remain firm and hang on to your faith through these trying times.
God does deliver His people from adversity. 
However, His deliverance is all too frequently a distant reality for some, if not the majority of us. 
But there is hope because God is faithful, righteous, and trustworthy. 
Based on my past experiences, He does not always work in our time frame (though we wish he would). 
However, the bottom line is that He saves His people and delivers us from all of our fears. 
In my article on Bible verses about faith in hard times, I will discuss using faith bible verses how to trust God in hard and challenging times.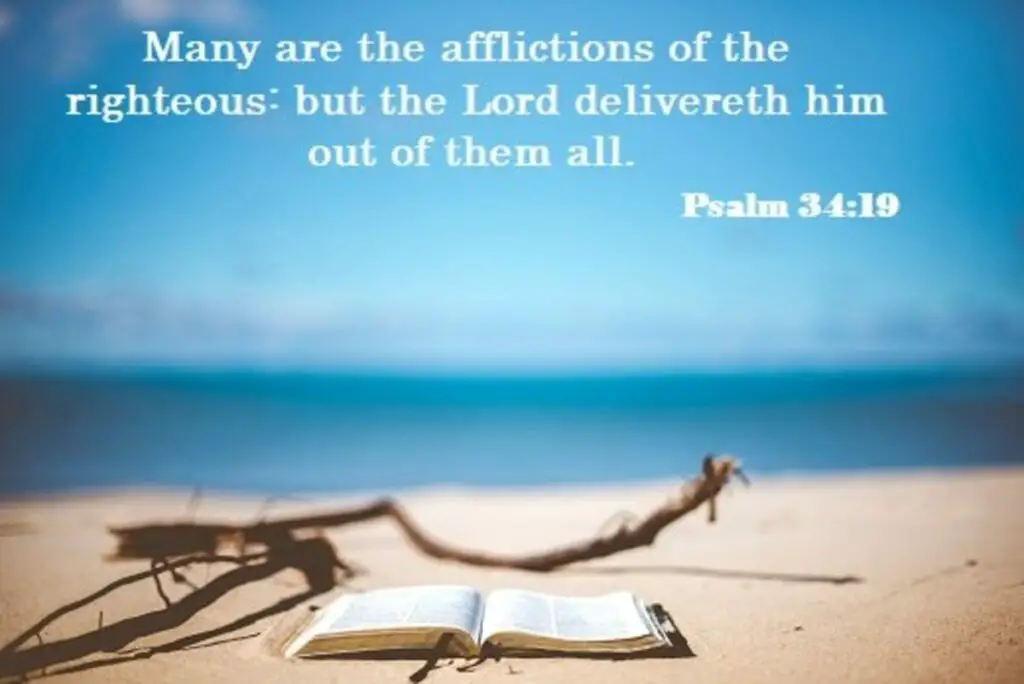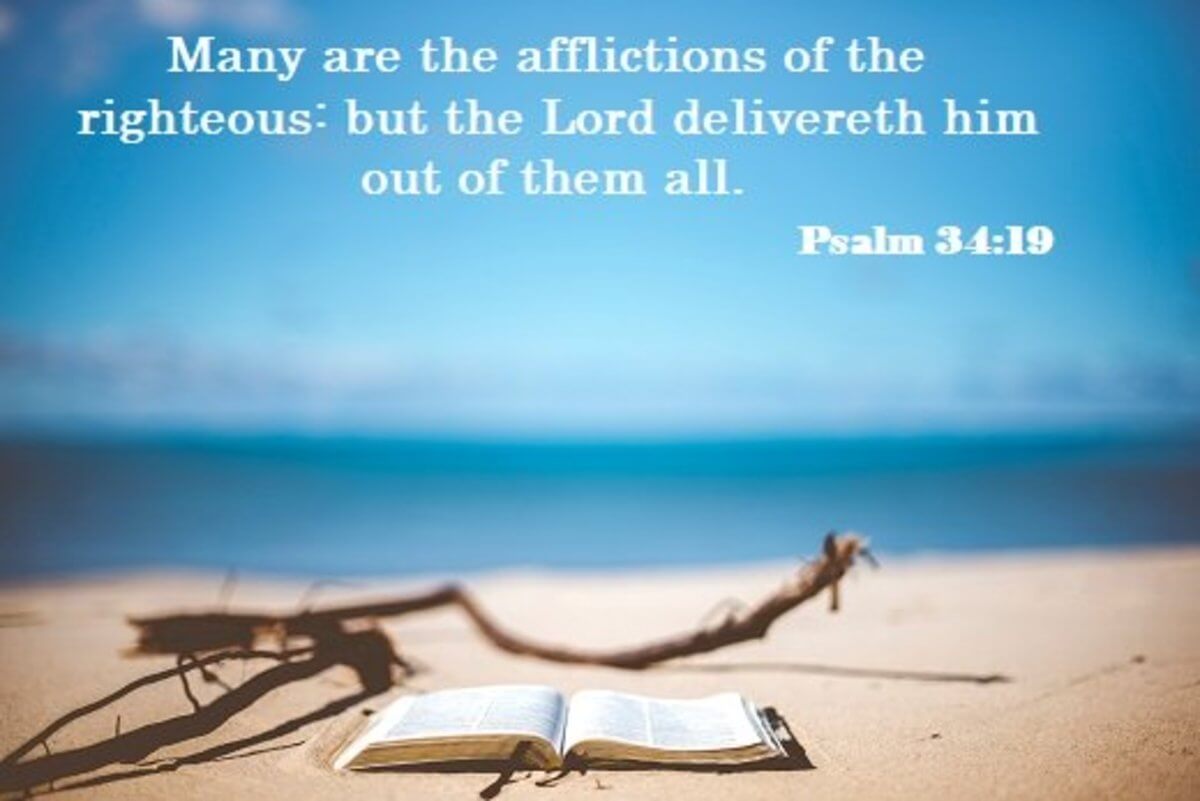 Bible Verses About Faith in Hard Times
Here are a few awesome scriptures on faith in hard times that you can use to strengthen your faith and resolve in God.
2 Corinthians 5:7
"For we walk by faith, not by sight."
Paul reminds us in 2 Corinthians 5:7 that we walk by faith and not by sight. The devil is a master of the flesh realm, and whenever we walk by sight instead of faith, the devil wins. 
The first step to seeing the will of God manifest in your life during hard times is by living by faith. You need to decide in your mind that you will take God at His word and believe every word He says; this is how you will see victory in your life.
Psalm 9:9
"The Lord also will be a refuge for the oppressed, a refuge in times of trouble."
Allow me to draw your attention to two words: "oppressed." 
The powers of darkness and heartless men who do not regard God are responsible for oppression.
Acts 10:38 says, How God anointed Jesus of Nazareth with the Holy Spirit and with power, who went about doing good and healing all who were oppressed by the devil, for God was with Him."
You see, the bible calls the work of the devil satanic oppression, and the devil uses men to carry out his oppressive assignments.
Satan can make our lives a living nightmare, but Psalm 9:9 tells us that God is nevertheless in charge and that He is a refuge for the oppressed in times of adversities.
Take heart; the Lord is reassuring you who trust in him but are afflicted to keep on trusting in Him.
Our God is a refuge, and even if things are not going as planned, remain faithful to God because your help will come soon.
Psalm 46:1
"God is our refuge and strength, an ever-present help in trouble."
A refuge is a haven, a place of relaxation, peace, hope, comfort, and the good news is that God is your refuge and strength. 
The psalmist in this verse wants you to hope in God, trust in Him, and put all of your trust in Him.
You are urged to make God your refuge and strength in difficult times. 
Maybe terrible things have happened in your life. To name a few, declining health, a lack of finances, an abusive spouse, family strife, or even joblessness. Nevertheless, you can trust God to be your haven, hope, and strength.
Isaiah 43:2
"When you pass through the waters, I will be with you, and when you pass through the rivers, they will not sweep over you. When you walk through the fire, you will not be burned; the flames will not set you ablaze."
God will allow you to go through trials at times so, to strengthen your faith in him. 
 It is not a case that He enjoys seeing you in pain and other vicissitudes of life. But He wants you to see how strong you are when you place your confidence and trust in Him.
God is the Most-Hight, a God of strength and power. You are His child, and He will enable you to go through difficult times without being destroyed. Choose to trust God today.
Proverbs 18:10
"The name of the Lord is a strong tower; The righteous run to it and are safe."
Are you in the middle of a never-ending wilderness adventure? 
Consider what this verse says if you answered yes to the question. 
"The Lord's name is a strong tower," says the first phrase. 
A tower, often known as a watchtower, is a tall building with a vantage point for spotting oncoming danger from afar. 
This means that in whatever position you have found yourself in, the name of the Lord is our stronghold. 
God has a name for every scenario you will encounter in your life; let us look at a few:
If you're having financial difficulties, remember that God's name is Jahweh Yireh (Jehovah Jireh)—the Lord will provide.
If you are unwell, God's name is Jehovah Rapha, which means "Your Healer, the Lord Who Heals."
If you're worried and your mind is racing, remember that God's name is Yahweh Shalom (Jehovah Shalom), which means "God of Peace."
If you are afraid, remember that God's name is Yahweh Nissi (Jehovah Nissi), and the Lord is your shield.
If you have any doubts about God's ability to deliver you—His name is El Shaddai—God Almighty.
If you feel abandoned, remember that God's name is El Elyon, which means "God who sees."
"The virtuous run into it and are safe," reads the second section of this verse. When life gets tough, the righteous find solace in God. 
No matter where you are in life right now, the tower (God) is wide open, waiting on you to enter and find rest and safety. 
Philippians 4:6
"Be anxious for nothing, but in everything by prayer and supplication, with thanksgiving, let your requests be made known to God."
When the life you work so hard to construct, or the excellent life you desire to achieve, becomes unclear and gloomy, it becomes easy to give up on life and your dreams.
However, this scripture encourages you to put whatever is causing you to become anxious before God.
According to the Bible, God is the father who will give you what you ask for. This suggests He wants to know what is bothering you. It is not that God does not know your position. But still, He wants you to call and trust in Him. 
1 Peter 5:7
"Casting all your care upon him for he careth for you."
The devil's greatest tragedy is convincing you that God ignores your petitions for assistance—this is a lie, and you must never, ever believe it.
In reality, God cares, and He is so concerned about you that He invites you to bring all of your worries and concerns to Him.
We can get so caught up in what is wrong in our life that we forget that God is more than capable of solving all of our problems. 
However, this is only possible when we pray to God about our problems.
Faithful prayer will invite God to respond in our favor, all the more reasons to trust God.
Romans 8:38-39
"For I am convinced that neither death nor life, neither angels nor demons, neither the present nor the future, nor any powers, neither height nor depth, nor anything else in all creation, will be able to separate us from the love of God that is in Christ Jesus our Lord."
God sent His son Jesus Christ into this world to suffer for our sins, and in so doing, revealed God's plan of redemption and victory.
The purpose of these verses is to urge us to trust in God.
Reading these passages, it seems God wants us to find consolation and inspiration in these verses. These verses convey God's thoughts about us. 
Nothing in the past, present, or future, visible or invisible, dead or alive, will God allow ruin our lives if you trust Him.
Keep your eyes on the Lord, and your faith in God during these trying times will see you through.
Hebrews 12:2
"Looking unto Jesus the author and finisher of our faith; who for the joy that was set before him endured the cross, despising the shame, and is set down at the right hand of the throne of God."
You are instructed to have faith in God. But what exactly is faith? Faith is the belief in something's integrity, in this case, God's Word.
Moreover, when we look at Jesus; the author and finisher of our faith, we will find joy, peace, and strength for our tired spirit.
Trust God, and your father will renew your strength and bless you with a double portion of whatever you s desire. 
Psalm 20:7
"Some trust in chariots, and some in horses: but we will remember the name of the LORD our God."
It is not a secret that the best way to keep your faith in hard times is to trust God. Why? Well, chariots will fail, Horses will fail, and men will fail you. 
 But they who trust in God can rest assured that God will not fail. Take heart and start trusting God today.