I have recently gone through perhaps one of the most defining periods in my life. It was pretty; it was the perfect storm sent by the devil to destroy my life; God used it to nature my faith and trust in Him.
Peace of mind, hope, joy, strength, and comfort, all of which I now enjoy, were distant desires.
It was as though God had forgotten about me or He was punishing me for past sins I committed.
 It was overwhelming, especially being stressed out with nowhere to turn, not knowing what next to do, and burden with pressing responsibilities. My life and predicaments were at their disastrous best.
I tried my best to stay focused on God, but even that was difficult to perform. 
 I was becoming weaker and weaker with each passing day—nothing I tried worked; I was desperate, in bad shape, and needed help fast.
What I feared; came upon me, and I had to make up my mind. Should I give up and accept whatever life throws at me, or should I wait on God?
Well, I chose the latter, and I thanked God I did because our God is faithful; He helped me in my darkest hour. He gave me hope, peace, joy, comfort, strength, and victory.
Moreover, the good news is that God can help you too, no matter where you are spiritually, mentally, financially, and emotionally; God will help you if you surrender your heart to Him. 
Today is your hour of hope and breakthrough; the evil that satan sent to destroy you; God will use it to shape, or form, and encourage your faith in Him. 
In the end, you will come out of this situation stronger than you went in, and the best part is that you can use these encouraging scriptures for strength and comfort to remind you that God is with you.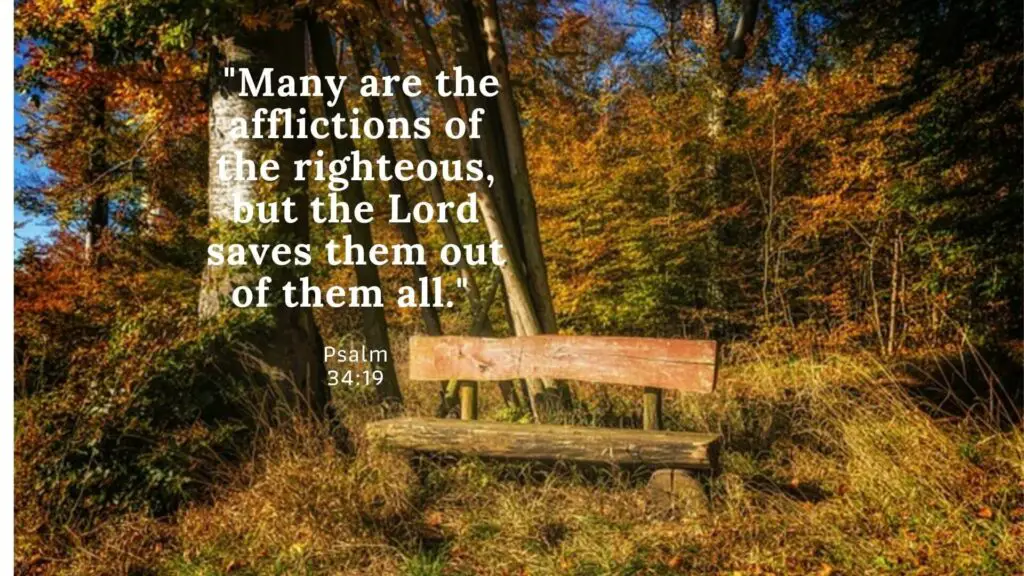 Bible Verses for Strength and Comfort
You may well be feeling different emotions, including sadness, irritation, anxiety, and possibly anger. However, here are a few Bible passages about strength and comfort to help you during these trying times.
Psalm 46:1
"God is our refuge and strength, a very present help in trouble."
Psalm 34:19 says, "Many are the afflictions of the righteous, but the Lord saves them out of them all." 
You see, trials and tribulations will come whether you like it or not. "But the Lord is waiting at your call for help to bring deliverance to you.
Moreover, Psalm 46:1; says, "God is our refuge and strength, "you may not be able to control everything that is unfolding in your life, but one thing is sure: God is your refuge and strength, and you can hide in Him and experience peace in the storm. 
God is an ever-present help in difficulties; He has your best interests at heart, and He will help you if you trust Him. 
Do not allow fear to get the better of you; keep your focus, and the Lord will fight for you. 
You may not be seeing how God will do it, but I want to encourage you that He will do it for you; God is with you, and He is working everything out for your good.
Psalm 23:4
"Yea, though I walk through the valley of the shadow of death, I will fear no evil; For You are with me; Your rod and Your staff, they comfort me."
In life, valleys are low, dark, and those lonely places. Valleys are some of the most difficult moments in life to deal with, and they usually come when we least expect them to show up. 
Examples of low valleys in life are:
When we run out of money
When there is a death in the family
When we are out of a job
When we are in the midst of a troubled relationship are some of the low valleys of life.
Nevertheless, this comforting bible verse encourages us to be fearless. Why? Because God is capable of rescuing us from the deepest and darkest of pits that we may find ourselves.
God is omnipresent, meaning He is with you at all times. God is omniscient, which means He is aware of everything happening in your life. And God is omnipotent, meaning that He is all-powerful to deliver you from any situation, whether great or small.
There is no valley so dark that God can not find you; start trusting God today with all of your heart; He will help and give you peace, comfort, and strength.
Proverbs 18:10
"The name of the Lord is a strong tower; the righteous run into it and are safe."
It's challenging enough to stay hopeful in the face of adversity and even harder to combat an adversary you can not see (the devil).
It was like the righteous man Job when the devil was sending stress, afflictions, and tribulations from all sides to destroy him.
But, despite all of Job's troubles; death of his children, loss of properties, lost of livestock, and almost all he had, God came through for him in the end, and He can come through for you.
The scriptures give us many reasons to be hopeful, and this scripture highlights one of those reasons because it emphasizes that God is a tower, not just any tower but a strong tower. 
This tower is impregnable; the devil will not destroy you in God's presence.
 That said, when you feel weak and want to give up because of your troubles, this passage reminds you that you can go to God and find rest while the storms of life pass over. 
Nehemiah 8:10
"Do not grieve, for the joy of the Lord is your strength."
Cry if you need to, but not to the point where grief steals your expectations and hope in God. 
The devil does not mind you sad for the rest of your lives; in fact, he will do all in his power to keep you unhappy.
For this reason, guard your faith and hope in God because grief rejoices in the absence of hope, and this will ruin your life. 
Moreover, it is no surprise that this scripture advises us not to be sad because continual grief keeps our bond to our past.  
Furthermore, continual sorrow blinds us from seeing God's promises for our lives and can cause us to question God and get angry with Him.
For these reasons, allow this verse to strengthen your spirit, bless your heart, comfort your soul, and bring joy to your life. 
Joshua 1:9
"Have I not commanded you? Be strong and courageous. Do not be afraid; do not be discouraged, for the LORD your God will be with you wherever you go."
Joshua was uncertain and possibly discouraged after Moses' death. 
Like Joshua, we all feel this way when uncertainly and the vicissitudes of life step in.
But God had a word for Joshua. God encouraged Joshua; He reminded Joshua that He was with him and will continue to be by his side wherever he goes.
God is saying these words to you" "Have I not commanded you? Be strong and courageous. Do not be afraid; do not be discouraged, for the LORD your God will be with you wherever you go." 
Like Joshua, you need to be strong, courageous, and willing to take God at his word.
The good news is that God is with you. He will see you through pain, brokenness, loneliness, grief, sorrow, and anything the devil throws at you.
Psalm 30:5
"For His anger is but for a moment, His favor is for life; weeping may endure for a night, but joy comes in the morning."
As said earlier, it is okay to cry; tears are a language that God understands, and your weeping will only last for a night because, according to this verse, your joy will soon come in the morning if you do not give up. 
So, cry if you have to, but do not spend the rest of your life crying because your Father expects you to find strength and comfort in His promises.
Choose to believe God today, believe in all of His promises, and confess that they are all true.
Finally, wait on God, be patient, and know that your appointment with joy is a solid promise from your heavenly Father.
 Matthew 9:20-21
"And, behold, a woman, which was diseased with an issue of blood twelve years, came behind him and touched the hem of his garment: For she said within herself, if I may but touch his garment, I shall be whole."
Our adversary, the devil, has always tried to keep the people of God from obtaining God's deliverance. Even way back, over 2000 years ago, where this event with the woman with the issue of blood took place, the devil was at work fighting against the people of God. 
The devil thrives when we are anxious – he is a master at work, especially when we are in dire need of assistance and with nowhere else to turn.
But this encouraging scripture is about a brave woman who needed encouragement; she was looking to connect with Christ; she did and received her healing immediately after touching Jesus Christ.
This woman exemplifies faith and courage by focusing her attention on the Lord even though she was weak in her body.
 Today, you can choose to believe in God. You can decide right now to seek God with your whole heart.
And instead of focusing your attention on the devil, focus all of your attention on God. 
2 Chronicles 20:15
"Do not fear nor be discouraged because of this vast army. For the battle is not yours, but God's."
The devil is the source of all discouragement. But God commands us to fight discouragement. 
Moreover, our God has not given us a fearful spirit so that we will live in fear of the devil. But God has given us a spirit of love, power, and a sound mind, read 2 Timothy 1:7.
Elijah was running away from Jezebel, but the good news is that Jesus Christ has given us the victory, and we do not have to run from the enemy anymore.
Stand still today, and you will see the salvation of the Lord your God.