How to get closer to God by fasting? The kingdom of God is a Kingdom of light; it's a kingdom of information, and unless you possess the correct knowledge, all your efforts to get results will prove ineffective.
To engage and receive from the kingdom of God, you must possess the understanding of the subject matter that will compel results or whatever you are seeking.
God's words are sure and are available to anyone who wants to see the reality of the word in their life. But too often, believers become frustrated and give up when they do not see and get the results they are looking for in their lives. 
The question of "how to get closer to God by fasting" assumes that you want to see more of God in your life. 
It presumes that you want to transition to a dimension where you can interact and hear the voice of God clearer than you are at this moment.
Are you ready to see more of God's power at work in your life? 
Without further ado, here's how to get closer to God by fasting.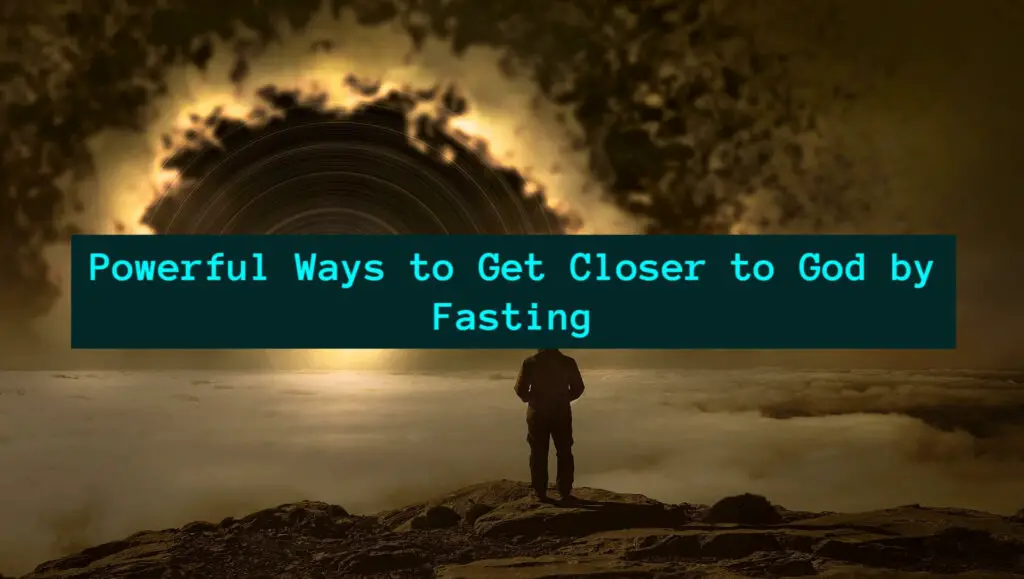 1. Be fully persuaded
Be convinced that God has called you to prayer and fasting. Romans 4:21 says, "And being fully persuaded that, what he had promised, he was able also to perform." 
To engage the kingdom of God on any desire, you must first see what God says about the matter, then allow that word to fill your heart so that you can become convinced that this is the will of God, and He wants you to do it.
In Romans 4:21, Abraham was convinced that God would keep His word, so he gave up all, followed God, and never looked back. Abraham had no second thoughts or regrets; he had faith in his heart that God his faithful.
Likewise, if you are to get closer to God by fasting, you need to be aware and convinced that God requires praying and fasting from you. 
Joel 2:12 "Even now," declares the LORD, "return to me with all your heart, with fasting and weeping and mourning."
Acts 13:3-4 "So after they had fasted and prayed, they placed their hands on them and sent them off. The two of them, sent on their way by the Holy Spirit, went down to Seleucia and sailed from there to Cyprus."
As you can see, God indeed wants you to draw closer to Him by adding fasting to your prayers.
2. Be consistent
Don't fast today and wait five months later to fast again; that would mean you are inconsistent and is a sure way to hinder your spiritual advancement. 
Prayer and fasting are powerful and one of the best ways to attract heaven to your life.  
By being consistent in prayer and fasting, you are saying to God that you mean business with him; otherwise, you will not compel heaven and its power to come to you.  
Apostle Paul fasted often, and here is proof that he did:
2 Corinthians 11:27 "In weariness and painfulness, in watchings often, in hunger and thirst, in fasting often, in cold and nakedness."
Take fasting seriously. Turn off your television, phone, and other devices; find a quiet place and offer your prayer and fasting before God, it is the fasting that God requires, and you must offer it.
Read more about the fast that God requires:
Matthew 6:16 "Moreover when ye fast, be not, as the hypocrites, of a sad countenance: for they disfigure their faces, that they may appear unto men to fast. Verily I say unto you, they have their reward."
Isaiah 58:6 " Is not this the fast that I have chosen? to lose the bands of wickedness, to undo the heavy burdens, and to let the oppressed go free, and that ye break every yoke?"
3. Add fervent prayer to your fast
With your mind, heart, body, and soul, put your all into your prayer and fasting. To compel results, you need to focus all your strength on drawing closer to God. 
Here is the scripture to confirm this:
James 5:16 "Confess your faults one to another, and pray one for another, that ye may be healed. The effectual fervent prayer of a righteous man availeth much."
4. Address your mindset
You can never rise above the measure of your mindset. Romans 12:2 says, "And be not conformed to this world: but be ye transformed by the renewing of your mind, that ye may prove what is that good, and acceptable, and perfect, will of God." 
Your mind is the total sum of who you are; if your mind is carnal, you cannot expect to engage the realm of spirits, which is what prayer and fasting help you to do. 
Where prayer and fasting is concerned, you must challenge and tear down any philosophy and ideology that opposes the word of God. 
Whatever the word of God says, that settles it; you only need to believe it.
Prayer and fasting are spiritual, and the mind plays a critical role in determining the effectiveness of this spiritual experience.
A spiritual mind will push you closer to God, aided by prayer and fasting; however, being carnally minded will sabotage your pursuit of God and drive you even further away from Him.
5. Engage the Priesthood
There is no shortcut to the realm of greatness, and sacrifice plays a big part in drawing you closer to God. 
In this kingdom, the kingdom of God, there is nothing such as "nothing for something." To gain and advance in God, you must be willing and ready to sacrifice something. 
For example, John 3:16 says, "For God so loved the world that He gave His one and only Son, that everyone who believes in Him shall not perish but have eternal life."
God loved the world, and as an expression of His love, He gave His only begotten son Jesus Christ as a sacrifice for all men.
The Priesthood is all about sacrifice; it is about our willingness to freely lay anything down before God. 
You must willingly and freely decide to pray and fast at any cost; it's your priestly duty.
When you engage your priestly office through prayer and fasting, you are bringing yourself into a place of spiritual alignment to hear God. 
1 Peter 2:9 "But ye are a chosen generation, a royal priesthood, a holy nation, a peculiar people; that ye should shew forth the praises of him who hath called you out of darkness into his marvelous light."
Final Thoughts 
Fasting is powerful when done with understanding. Fasting and prayer is the place where you encounter power to push you into the secret places of God. Fasting will maximize the spiritual blessings you will get from prayer and bring you closer to God than you ever thought possible. God wants you to pray and fast and I hope this post has encouraged you to do so.