I've been writing about faith a lot lately, but today I want to share with you a few powerful forgiveness scriptures that you can use to build your faith and knowledge about forgiveness. 
Forgiveness is vital and imperative to our Christian walk, it's not something we can just look over, there must be attention given to it. 
Best Forgiveness Scriptures in the Bible
If you ask me, I'd say that forgiveness is a matter of life and death because unforgiveness is as the grave and God detests it. 
So, without further ado, here are a few timely scriptures on forgiveness that'll bless your heart. 
1. Matthew 6:14-15
 "Forgive other people when they sin against you, your heavenly Father will also forgive you. But if you do not forgive others their sins, your Father will not forgive your sins."
Commentary
Forgiveness is an act of obedience. I'm going to be as frank, transparent, and upright about the topic of forgiveness as much as possible.
Often sweep under the rag, forgiveness is a vital and important aspect of the Christian lifestyle. 
It doesn't matter where you live or go, at some point someone will offend you.
But when that happens what do you do. Well, you can do what the average person does; "hit back and hold the person (s) in their heart, and of course, that isn't what God asks us to do. 
God doesn't force any of us to forgive, he simply asks us to forgive those who offend us because He forgives us even when we offend him often. 
The truth is we can simply choose not to forgive, but then again, we won't be forgiven. For this, forgiveness is a deliberate act of obedience to God. 
I would encourage you to obey our Lord Jesus Christ and forgive those who have offended you, though it is hard.
But it's better to obey God, you would be doing the right thing and would feel better afterward. Also, you would be releasing yourself from spiritual bondage.
2. Ephesians 4:32
"Be kind to one another, tenderhearted, forgiving one another, as God in Christ forgave you."
Commentary
Forgiveness is an act of compassion. The simple fact that you can choose not to forgive someone who has offended you means that you are showing mercy to the offender (s). 
In fact, forgiving and releasing others from your heart isn't only for them, it's you also in a sense showing mercy for yourself. Or self-love if you may call it so. 
Hence, I would encourage you not to hesitate when it comes to forgiveness, because in forgiving others; you're releasing yourself from the cursed chains of unforgiveness. 
 Moreover, we indeed see that forgiveness is an act of mercy and compassion. See it here in Micah "you do not stay angry forever, but you delight to show mercy. You will again have compassion on us; you will tread our sins underfoot and hurl all our iniquities into the depths of the sea" (Micah 7:18-19).
3. Matthew 18: 21-22
"Then Peter came up and said to him, "Lord, how often will my brother sin against me, and I forgive him? As many as seven times?" Jesus said to him, "I do not say to you seven times, but seventy-seven times."
Commentary 
Forgiveness is an act of Patience. I'd be honest, this statement by Jesus isn't the easiest pill to swallow, but if any of us desire to follow God we must obey. 
That said, the keynote of Matthew 18:21-22 is patience, as the bible says here "Bear with each other and forgive one another if any of you has a grievance against someone. Forgive as the Lord forgave you." (Colossians 3:13). 
It may not be easy to repeatedly forgive persons who knowingly and deliberately offend you. You would have to dig a bit deeper and rely on the Holy Spirit to help you. 
I won't pretend it's easy, but it is imperative to exercise patience if you are to follow what Jesus says in this text. 
That said, I would encourage you to rely on the Holy Spirit and just trust God to give you the grace to exercise patience. 
4. 1 John 1:9
 "If we confess our sins, he is faithful and just and will forgive us our sins and purify us from all unrighteousness."
Commentary 
Forgiveness is an act of confession. For with the heart, man believeth unto righteousness; and with the mouth, confession is made unto salvation" (Rom. 10:9-10). Note what Paul said …. "confession is made unto salvation (deliverance).  
Confession is powerful, and no wonder John tells us that we must confess our sins. I've seen, though it may sound crazy to you. Some folks, believing they are so right; think they do not need to confess their sins before God. 
But what I want to point out in this commentary is the "confession." This brings me to the point that even when you are the victim, it's important to confess with your mouth that you have forgiven the person (s) who offended you. 
5. Luke 23:33-34
 "And when they came to the place, which is called Calvary, there they crucified him, and the malefactors, one on the right hand, and the other on the left. Then said Jesus, Father, forgive them; for they know not what they do. And they parted his raiment and cast lots."
Commentary
Forgiveness is an act of courage. It takes courage to forgive. Imagine the strength and courage it took Jesus to, despite the pain, suffering, and sorrow to still look up to the father and say, "Father forgive them."
Likewise, if you are to walk the road of forgiveness; you will need to ask God for courage and strength. 
6. 1 Peter 4:8
"And above all things have fervent love for one another, for love will cover a multitude of sins."
Commentary
Forgiveness is an act of love. Love covers a multitude of sins, and when there is love, forgiveness becomes easy. It was love that caused Jesus to leave heaven, walk the earth, dwell among men, was crucified on the cross, was buried in a tomb, and rose on the third day. It was all because of love.  For this reason, I pray that as you read these words you'll increase in love. 
 7. John 19:17-18
"Carrying his own cross, he went out to the place of the Skull (which in Aramaic is called Golgotha). There they crucified him and with him two others – one on each side and Jesus in the middle."
Commentary 
Forgiveness is a display of strength. It takes a strong person to look at someone who has done them wrong and say, "I forgive you." That's exactly what Jesus did when he carried that cross to Golgotha. He didn't have to, but for the joy that was set before him, he despised the shame and endured the cross. 
May you grow in strength, increase in grace, and find comfort knowing you are doing the right thing when you choose to forgive others.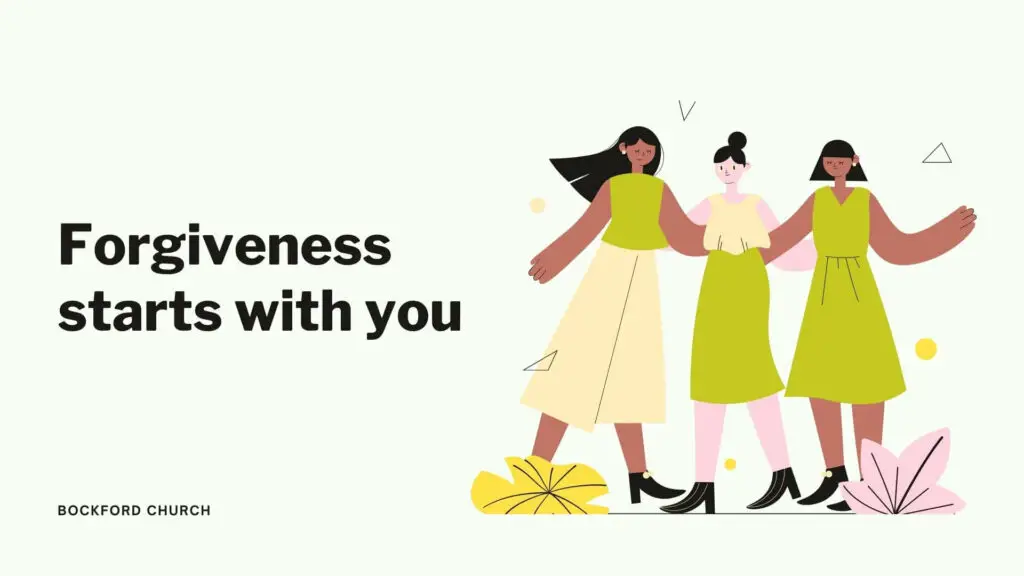 Scriptures of Forgiveness and Healing  
Here are a few more powerful forgiveness' scriptures that speak to the joy and power of forgiveness.
That said, being forgiven or forgiving others is one of the most wonderful feelings you will ever have, here are a few powerful scriptures on forgiveness and healing that will help you to forgive.
True healing starts when you forgive whoever hurt you, as you forgive, God steps in and expedites the healing process as you obey him. 
If you refuse to forgive others, healing will not come, instead, you'll continue to live a broken, unforgiven, and empty life. 
When seeking healing, whether for your spirit, soul, mind, or body, the key is to obey God as we read here "And he said, If thou wilt diligently hearken to the voice of the Lord thy God, and wilt do that which is right in his sight, and wilt give ear to his commandments and keep all His statutes, I will put none of these diseases upon thee, which I have brought upon the Egyptians: for I am the Lord that healeth thee."-Exodus 15:26(KJV)
Exodus 15:26 makes it very clear that it is the Lord who heals; not us who heal ourselves. 
For this reason, King David cried desperately for forgiveness in Psalm 51 so that healing will come" Have mercy upon me, O God, according to thy lovingkindness: according to the multitude of thy tender mercies blot out my transgressions. 
Wash me thoroughly from mine iniquity, and cleanse me from my sin. For I acknowledge my transgressions: and my sin is ever before me. 
Against thee, thee only, have I sinned, and done this evil in thy sight: that thou mightest be justified when thou speakest and be clear when thou judgest."-Psalm 51:1-4(KJV)
Later in the same chapter 51, David asked for healing "Purge me with hyssop, and I shall be clean: wash me, and I shall be whiter than snow. Make me hear joy and gladness; that the bones which thou hast broken may rejoice."-Psalm 51:7-8(KJV)
He continues to cry here "Restore unto me the joy of thy salvation and uphold me with thy free spirit."-Psalm 51:12(KJV)
As you can see, our healing is hinged on, firstly, forgiving those who hurt us, and secondly, God forgiving and bringing restoration to our lives. That said, here are a few bible verses that emphasize the need to forgive so that healing will come:
Matthew 6:14-15 "
For if ye forgive men their trespasses, your heavenly Father will also forgive you: But if ye forgive not men their trespasses, neither will your Father forgive your trespasses."
Mark 11:25
"And when you stand praying, if you hold anything against anyone, forgive them, so that your Father in heaven may forgive you your sins."
Mathew 18:21-22 
"Then Peter came to Jesus and asked, "Lord, how many times shall I forgive my brother or sister who sins against me? Up to seven times?" Jesus answered, "I tell you, not seven times, but seventy-seven times."
James 5:16 
"Therefore, confess your sins to one another and pray for one another, that you may be healed. The prayer of a righteous person has great power as it is working."
Isaiah 1:18 
"Come now, let us settle the matter," says the Lord. "Though your sins are like scarlet, they shall be as white as snow; though they are red as crimson, they shall be like wool."
Luke 6:37 
"Do not judge, and you will not be judged. Do not condemn, and you will not be condemned. Forgive, and you will be forgiven."
Acts 2:38  
"Peter replied, "Repent and be baptized, every one of you, in the name of Jesus Christ for the forgiveness of your sins. And you will receive the gift of the Holy Spirit."
Ephesians 1:7
"In him, we have redemption through his blood, the forgiveness of sins, in accordance with the riches of God's grace."
What Does the Bible Say About Forgiveness?
I will let the bible speak for itself; here what it says about forgiveness: "And when ye stand praying, forgive if ye have ought against any: that your Father also which is in heaven may forgive you your trespasses.
But if ye do not forgive, neither will your Father which is in heaven forgive your trespasses" (Mark 11:25-26).
Forgiveness Scriptures and Blessings 
It's no secret that the Lord's favor of healing, prosperity, long life, and abundance are with those who show mercy by following after forgiveness. 
When you forgive; you're attracting heaven's attention, and when God shows up, he will richly bless you. 
As I said earlier, forgiving others is indeed showing mercy; and when you do so, you're sure of God's blessings as the following scripture shows:
Psalm 25:7 "Remember not the sins of my youth, nor my transgressions: according to thy mercy remember thou me for thy goodness sake, O Lord."
Scriptures About Forgiveness of Sin
Here are a few more forgiveness scriptures that speak expressly about forgiveness of sins:
Psalm 25:18
"Look upon mine affliction and my pain, and forgive all my sins."
Psalm 32:1
"Blessed is he whose transgression is forgiven, whose sin is covered."
Psalm 85:2
"Thou hast forgiven the iniquity of thy people, thou hast covered all their sin. Selah."
Psalm 86:5
"For thou, Lord, art good, and ready to forgive; and plenteous in mercy unto all them that call upon thee."
Psalm 103:3
"Who forgiveth all thine iniquities, who healeth all thy diseases."
Psalm 130:4
"But there is forgiveness with thee, that thou mayest be feared."
Applying these forgiveness Scriptures to your life
Applying these seemly hard forgiveness scriptures isn't going to be easy, but the best way I've to get past the initial huddle is to do the following until these bible verses become reality in your life.
Read often: Nehemiah 8:8 "So they read in the book in the law of God distinctly, and gave the sense, and caused them to understand the reading."
Meditate. Joshua 1:8 "This book of the law shall not depart out of thy mouth; but thou shalt meditate therein day and night, that thou mayest observe to do according to all that is written therein: for then thou shalt make thy way prosperous, and then thou shalt have good success."
Pray often: 1 Thessalonians 5:17 "Pray without ceasing."
Thank God: 1 Thessalonians 5:18 "In everything give thanks: for this is the will of God in Christ Jesus concerning you."
Praise God: Psalm 100:4 "Enter into his gates with thanksgiving, and into his courts with praise: be thankful unto him and bless his name."
Final Word on Forgiveness Scriptures 
Forgiveness isn't always easy, it's hard. Nevertheless, God commands and he expects us to forgive those who have offended us. That said, I believe that these forgiveness scriptures that I've shared today with you will be a blessing to your heart.